Tortoises enjoy rewards of failed smuggling attempt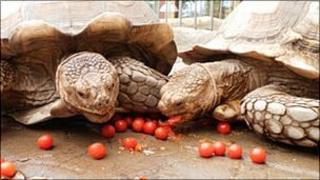 Boxes of tomatoes used in a failed attempt to smuggle 10 million cigarettes through a Suffolk port have been put to good use at an Essex zoo.
The haul was found in the Port of Felixstowe by the UK Border Agency in containers from the Canary Islands.
The two tonnes of tomatoes have now been given to Colchester Zoo.
Anthony Tropeano, from the zoo, said: "Our annual bill for feeding the many endangered species... is over £200,000 so we are very grateful."
Officers' attention was drawn to the shipment by a discrepancy in the documentation.
It would have cost the UK £2m in unpaid VAT and excise duty.
Brian Hill, UK Border Agency assistant director at the port, said: "Clearly, our first priority is to disrupt the smuggling operation, but when we make seizures like this we will also try and find a productive use for the cover load.
"Obviously, tomatoes discovered in this fashion are unsuitable for public consumption, but I am pleased that they seem to have gone down very well with the tortoises at Colchester Zoo."