Landfill rubbish to be converted to energy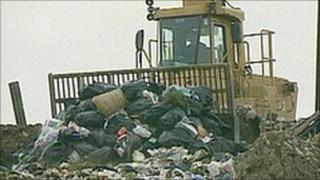 Household rubbish from the north east of England is set to be converted into energy rather than sent to landfill.
Gateshead, South Tyneside and Sunderland councils have been awarded government funding of £73.5m to develop a waste treatment plant.
A SITA consortium has now won the tender to build and operate a state-of-the-art facility on Teesside.
The rubbish will be burned to create electricity, or turned into steam to heat buildings.
Expected to be up and running in 2013, it will treat around 190,000 tonnes of rubbish per year and turn it into electricity equivalent to the amount of energy used by 37,500 homes.
The scheme will lead to the creation of about 40 jobs on Teesside.
It will also save more than £300m over the next 25 years - when compared to the cost of continuing to send waste to landfill sites.
Councillor Martin Gannon, chairman of the councils' waste management partnership, said: "This is great news for our residents.
"Forming a partnership with the SITA Consortium to build our treatment facility is a major milestone in the three councils' quest to find more sustainable ways of managing our waste."