Family plea for missing daughter last seen in Dorset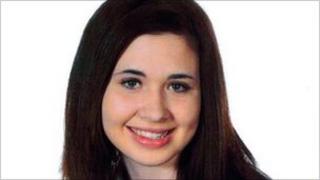 A family has appealed to their missing daughter to contact police and let them know she is "alive and well".
Vicky Carpenter, 15, from Eastleigh, Hampshire, went missing in Tarrant Hinton, Dorset, after visiting the Great Dorset Steam Fair on 5 September.
Officers believe she may have left with a young man and activity on her account suggests she is in the Skegness area of Lincolnshire.
Her father said any issues she has with the family can be resolved.
He added: "If you feel you cannot speak to a family member, please contact the police.
"Vicki, go into any police station and give them your details so that they can confirm to your mother and I the good news that you are alive and well.
"I am sure if there are any issues you have with us, they can be resolved.
"Let someone know if you need help. Do not feel alienated and alone.
"Everybody misses you, especially your brothers who do not understand where you have gone.
"Your mother and I love you very much. Please do the right thing and make contact, even if it is via the police."
Victoria is described as white, 5ft 10ins with long dark hair.