Sir Bobby Robson Foundation reaches £2.5m mark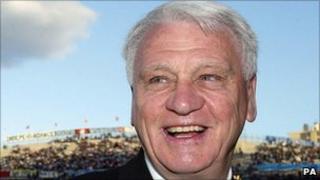 The charity foundation set up by the late Sir Bobby Robson has now raised more than £2.5m.
The Sir Bobby Robson Foundation reached the significant milestone just over a year since the ex-Newcastle and England manager's death.
County Durham-born Sir Bobby died on 31 July last year after a long battle with cancer.
The charity focuses on the early detection of cancer and the development of new drugs to help beat the disease.
A spokeswoman for the foundation said: "I am very pleased to confirm that the charity has passed the £2.5m mark. An amazing achievement thanks to fantastic ongoing support.
New treatment
"We will be announcing an investment into laboratory research equipment in October and unveiling a special new patron to support the charity's ongoing work in Sir Bobby's name soon."
Current patrons of the charity include Newcastle hero Alan Shearer, who played under Robson for five seasons at St James' Park.
The foundation, set up in 2008, works with scientists at Newcastle University to help develop new cancer treatments.
The charity has helped establish the Sir Bobby Robson Cancer Trials Research Centre at the Freeman Hospital in Newcastle.