North Yorkshire and Cumbria 'worst for bird crime'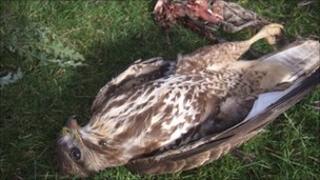 North Yorkshire and Cumbria had the highest number of criminal attacks on birds of prey last year, according to a report by the RSPB.
The charity's annual bird crime report revealed that it received reports of 27 incidents in North Yorkshire in 2009 - joint highest with Cumbria.
In South Yorkshire there were 12 reported incidents, 11 in West Yorkshire and four in East Yorkshire.
These included illegal shootings, poisonings and trapping birds.
Last year North Yorkshire topped the survey with reports of 23 incidents of bird persecution.
The RSPB said it had now made a number of government recommendations in an attempt to eradicate the "appalling crimes".
Nest destroyed
The charity said 2009 was the second worst year in the past decade for crimes against wild birds.
It received 384 reports nationally of shooting, poisoning and trapping birds.
Incidents in North Yorkshire included the discovery of dead kestrel which had been shot and a barn owl nest being destroyed in South Yorkshire.
Dr Mark Avery, conservation director at the RSPB, said: "Wildlife crimes are an abhorrent feature of our countryside.
"And for the sake of eagles, kites, harriers, buzzards, falcons and ospreys, we have to take more action to consign these crimes to history.
"Over time egg collecting has diminished but the killing of birds of prey is as big a threat today as it was two decades ago."