No disabled rooms for Winchester University student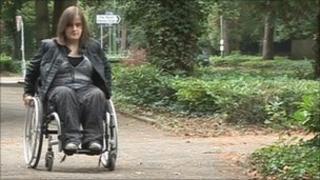 A woman due to start university in Hampshire next week fears she may have to defer her studies for a year due to a lack of disabled accommodation.
Freya Saxby, 20, of Bournemouth, is due to study at Winchester University.
She and her family believed that having been awarded a place, she would also be offered disabled accommodation.
University officials said they did not know until the end of August that Miss Saxby would take the course and all disabled rooms had been allocated.
Miss Saxby said: "To get this far in the studies, do the exam, pass the exam, get the place and then find that it's the accommodation that's the downfall, it's actually really disappointing."
Her mother, Diana Saxby, said: "It was on her form, her UCAS form, that she's a wheelchair user.
"We can't understand why she was offered a place, knowing that she had been perfectly honest and revealed that she was a wheelchair user.
"The accommodation department are unable to provide us with any more information. They've been quite curt really."
The university added it had a strong track record of supporting disabled students and will attempt to assist Miss Saxby to find privately-rented accommodation off campus.