Signed Dambusters raid book goes under hammer in Kent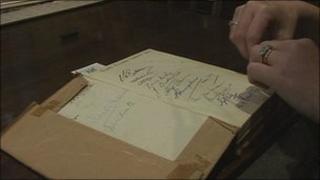 A book about the World War II Dambusters raids, signed by airmen who took part, has fetched £900 at auction.
The Dam Busters by Paul Brickhill was once owned by Flying Officer Brian Goodale of the 617 Squadron.
It features signatures from many of the crew that took part in the perilous low-level mission to destroy dams in Germany's Ruhr valley in 1943.
The book was sold to an anonymous bidder when it went under the hammer at the Canterbury Auction Galleries.
Two dams breached
Auctioneer Cliona Kilroy said: "What is particularly interesting about the book is that it was published in 1951 and given to the squadron leaders.
"There would have been an event to advertise the publication or celebrate the publication of it so the squadron members would have been together at that time and probably exchanged the books amongst themselves to ask each other to sign them."
The Dambusters unit was formed at RAF Scampton in Lincolnshire in 1943 and charged with breaching the Mohne, Eder and Sorpe dams in the Ruhr valley.
The attack took place on the night of 16-17 May 1943 and was famously made into a film, starring Sir Michael Redgrave and Richard Todd.
Two dams were breached in the raid, but an estimated 1,294 people drowned, while eight aircraft were lost, 53 aircrew were killed and three taken prisoner.
Goodale, known as Concave, was a member of a crew which survived the first wave of attacks on the Eder dam.
Engineer Barnes Wallis developed his innovative bouncing bombs while working at the Vickers Armaments factory in Weybridge, Surrey.
He secretly tested them at Reculver, near Herne Bay in Kent. Trials were also carried out at the Nant-Y-Gro dam in the Elan Valley, Powys.