Tests on Durham custody death man inconclusive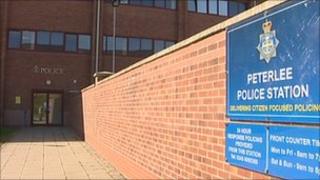 A post-mortem examination carried out on a man who died while in police custody has proved inconclusive.
Leonard McCourt died at Peterlee police station an hour after being arrested during a disturbance a few miles away in Seaham on Saturday.
The 44-year-old was found to be unwell at the station and was pronounced dead despite the efforts of paramedics to resuscitate him.
The Independent Police Complaints Commission (IPCC) is probing the death.
It said it would be focusing its investigation on the actions of arresting officers.
The post-mortem examination was carried out on Sunday but proved inconclusive, the IPCC said.
It is awaiting the results of toxicology tests.
Mr McCourt was arrested in Ash Crescent in Seaham at about 1645 BST on Saturday.
Durham Police said he was in "an agitated state" and was handcuffed before being put into a van and taken to the station - about 10 minutes' journey away.
Examine CCTV
A Durham Police spokesman said the force's professional standards department was also investigating the incident.
A spokesman for the IPCC said: "We extend our condolences to the man's family in these distressing circumstances.
"A man has died in police custody and it is right we consider whether or not anything could have been done to prevent it.
"We will be looking carefully at the actions of the officers involved to ensure they were proportionate.
"Investigators have also begun to examine CCTV footage from the police station."