Afghanistan blast soldiers 'unlawfully killed'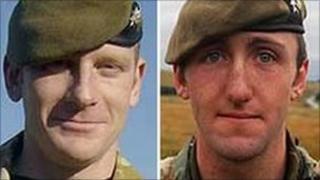 Two Royal Anglian soldiers who died in an explosion in Afghanistan were unlawfully killed, a coroner ruled.
L/Cpl Scott Hardy, 26, and Pte James Grigg, 21, both of 1st Battalion, the Royal Anglians, were caught in a blast in Helmand province on 16 March.
L/Cpl Hardy, from Chelmsford, Essex, and Pte Grigg, of Stradbroke, Suffolk, had been on a joint operation with the Afghan National Army and police.
The area was thought to have a low IED (improvised explosive device) threat.
Coroner David Ridley recorded verdicts of unlawful killing while on active service at the inquest at Trowbridge Civic Hall in Wiltshire.
'Low threat'
The inquest heard the day before the blast 13 miles (21km) north of Musa Qalah district, the unit had been dropped by helicopter behind insurgents.
The battalion had not been to the area, the court heard.
Company commander Major Stuart Smith said he heard an explosion while in another section and heard L/Cpl Hardy say over the radio: "Contact IED wait."
The officer said there was immediately another explosion and he rushed to the scene with a medic.
The patrol had been hit as it stopped for cover behind an earth embankment.
"It was quite clear that Scott was dead," Maj Smith said.
"James was being treated. He had suffered a double amputation and was being treated by our team medics."
The inquest heard that Pte Grigg was talking and even winked and showed his tongue to his comrades but stopped breathing before the evacuation helicopter arrived.
"The guys did everything they could. We thought, to begin with, he was going to be all right," Maj Smith said.
"I knew both of them. They were both great men," he added.