Lifeboatman in false disability benefit fraud claim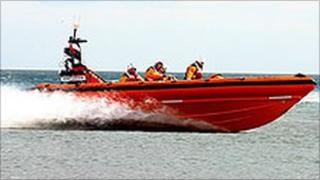 A man has been prosecuted for claiming disability benefits while working as a member of a North Sea lifeboat crew.
Mason Bentley, 34, of Thornton-le-Dale, Pickering, was with the Flamborough Lifeboat for a year from October 2006.
He received a top RNLI bravery award for rescuing a swimmer in bad weather, Bridlington magistrates heard.
But Bentley admitted he was claiming Disability Living Allowance at the same time. Last Friday, he was ordered to repay false benefit claims of £9,942.
Magistrates also gave him a six-month curfew order, between 10pm and 10am, and ordered him to pay costs of £70.
Bentley, also known as Alistair Docherty, formerly of Ogle Road, Flamborough, pleaded guilty on 3 September to failing to notify a change of circumstances affecting his entitlement to benefits.
'Dreadful conditions'
He admitted claiming disability living allowance between 6 December 2006 and 14 April 2009.
In 2008, he was among a three-man crew which was given the RNLI's top award for the most daring rescue of the year.
The mission on 22 August 2007 involved rescuing a swimmer in "dreadful conditions" close to rocks off Flamborough Head.
Commenting on the conviction, an RNLI spokesman said: "Alistair Docherty, as he was known to the RNLI, was a volunteer crew member at Flamborough for only a year and we have had no contact with him for two years.
"The RNLI co-operated fully with the Department for Work and Pensions to help with them with their investigation."
Minister for welfare reform Lord Freud said: "It's cases like these that show us why welfare reform is needed.
"We have a duty to the taxpayer and our customers to make sure that these vital benefits only go to those who need them.
"Benefit fraud takes money away from the most vulnerable."