Two injured in Hampshire garden plane crash 'stable'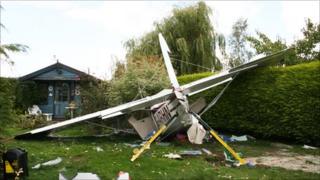 Two men seriously injured when their light aircraft crashed into a garden in Hampshire are in a stable condition, police have said.
The Piper PA-22 came down in Woodlands Road, Netley Marsh, at about 1415 BST.
Both men, thought to be aged between 60 and 70, were trapped in the wreckage. One had fractures, the other's injuries were thought to be more serious.
The plane had flown from Popham to Bembridge on the Isle of Wight and was on its way back when it crashed.
The Air Accident Investigation Branch (AAIB) has carried out an initial assessment of the scene, Hampshire police said.
'Skimmed the roof'
"The air accident investigation is due to resume tomorrow morning when Woodlands Road may need to be closed again so the aircraft can be removed safely," a spokesman said.
"[It] has been reopened but a police cordon remains in place outside the house where the plane crashed.
"No-one was reported injured but a number of residents were evacuated after the crash as a precaution [and later] returned to their homes."
Police are in process of contacting the next-of-kin of the pilot and passenger of the Piper PA-22-150, commonly known as a tri-pacer.
Officers have also been carrying out house-to-house inquiries.
The police spokesman said the single-engine plane appeared to have clipped the roof of a bungalow and a greenhouse before landing in the property's garden.
Shirley Laing, who saw the plane crash, told BBC News: "It was after lunch, suddenly there was a big shadow [and] the plane was approaching quite rapidly.
"Within a few moments it was actually coming down behind the tree, skimming the roof of the house next door, the trees behind the garden and disappearing very quickly.
"The pilot was trying to control the plane. Because it was so low we wondered whether it was actually going to get across the road."
Mrs Laing added: "We do have a lot of planes in the area but never as low as this.
"It came down directly behind the bungalow - the gardens are quite long [here]."
Police have appealed for anyone who witnessed the crash to come forward.