Photos of Stan Laurel sold at Newcastle auction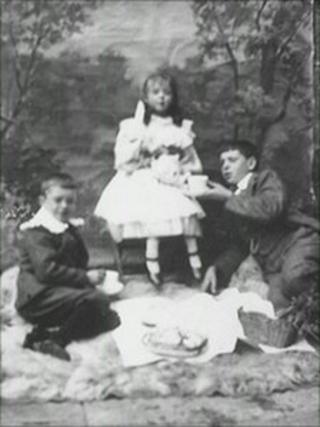 A collection of family photographs of Cumbrian-born comedian Stan Laurel has been sold at an auction in Newcastle.
Most of the 54 lots had never been seen before, with many featuring his long-time screen partner Oliver Hardy.
Auctioneers Anderson and Garland had expected the photos to fetch in the region of £15,000, but in the end they raised a total of £8,000.
The collection was put up for sale by Stan Laurel's great-niece, who lives in Sunderland.
The most popular lot, which featured a set of seven photos dating back to 1897, were sold for £1,400.
They feature the comedian performing a play in his back yard in North Shields with his brother and sister.
A spokesman for Anderson and Garland said the photos had been purchased by a number of collectors.
Stan Laurel was born in Furness, now in Cumbria, but spent much of his life in the north-east of England. He went to school in Bishop Auckland, County Durham, and his father managed a number of theatres around the region.
He went to school in Tynemouth, and statues have been erected in his honour in North Shields and Ulverston, Cumbria.