Four admit Huntingdon Life Sciences hate campaign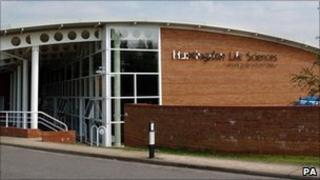 Four animal rights activists have admitted waging a hate campaign against people linked to a Cambridgeshire animal testing laboratory.
Thomas Harris, 27, admitted conspiracy to blackmail representatives and those associated with Huntingdon Life Sciences (HLS) with menaces.
Nicola Tapping, 29, Jason Mullen, 32, and Alfie Fitzpatrick, 20, admitted intimidating firms with HLS contracts.
Nicole Vosper, 22, and Sarah Whitehead, 53, had admitted a conspiracy charge.
Harris and Tapping are from Gosport in Hampshire while Jason Mullen is from London and Fitzpatrick from Solihull in the West Midlands.
'Threats of violence'
Vosper is from Newquay and Whitehead is from Littlehampton.
The six waged an international campaign of intimidation against a host of companies to try to force the closure of HLS.
Homes of staff from the supply firms were targeted with abusive telephone calls and criminal damage and threats of violence were also used to force companies to cut links with HLS.
The Recorder of Winchester, Judge Keith Cutler, adjourned the case for pre-sentence reports.
A two-day sentencing hearing will take place at Winchester Crown Court on 21 October.
The maximum jail term for conspiracy to blackmail is 14 years and the conspiracy under the Serious Organised Crime and Police Act 2005 is five years.