Parades and freedom honours for 3 Rifles Battalion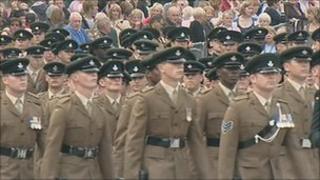 An army regiment which includes the former Durham Light Infantry is receiving a series of honours.
Soldiers from the 3rd Battalion The Rifles were awarded the Freedom of the Borough of Darlington on Wednesday followed a parade through the town.
Veterans, TA soldiers and cadets, also took part in the march in front of a large crowd of spectators.
There will also be parades and Freedom awards in Stockton on Thursday and Sunderland on Friday.
The Rifles Regiment is the largest infantry regiment in the British Army and recruits from across the North East.
During its six-month tour of Afghanistan, the 1,400-strong 3 Rifles battle-group lost 30 members, the biggest loss of life in a battle-group since the Korean War.