Lancashire 'has England's best and worst GCSE results'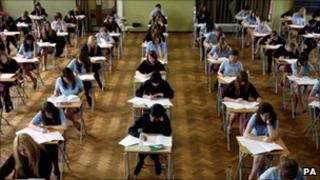 Lancashire has the highest and lowest proportion of GCSE students who achieve five or more A*-C grades in England, according to BBC-commissioned research.
The study by Experian looks at how resilient each area of England is to economic shocks.
Researchers have analysed 33 factors, including how qualified its working-age population is.
Fylde leads the GCSE table while Burnley is at the bottom, ranked at 324.
Rushcliffe in Nottinghamshire follows Fylde, and Harrogate in North Yorkshire is third in the GCSE table.
'Pretty historic'
Following Burnley at the bottom is Gosport in Hampshire, which is ranked at 323, and Norwich at 322.
Fylde is on the west Lancashire coast and has many affluent areas.
Burnley is a town in the east of the county which has more pockets of deprivation.
Susie Charles, cabinet member for children and schools at Lancashire County Council, said the difference in attainment levels in the county was "probably pretty historic".
She said it was probably more down to the influence of parents than standards in education.
"Fylde are better performing because they have more middle-class families living there," she said.
"Middle-class parents generally have much more involvement with schools."
However, she said three new BSF (Building Schools for the Future) schools had just opened in Burnley, which she thinks will help boost attainment.
Ms Charles added that the attainment of Lancashire children that are eligible for free school meals improved by more than 5% in 2009 compared to the previous year.