Rare photographs of comedian Stan Laurel are auctioned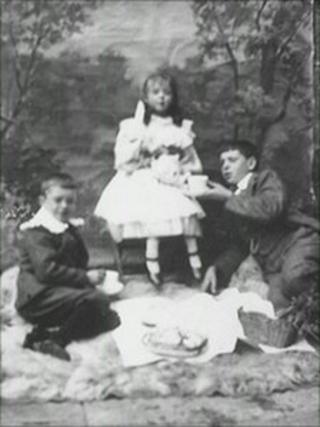 A collection of family photographs of Cumbrian-born slapstick comedian Stan Laurel is going under the hammer in Newcastle.
Most of the 54 lots have never been seen before and one set of seven pictures dates back to 1897.
They feature the comedian performing a play in his back yard in North Shields with his brother and sister.
The collection was put up for sale by his great-niece, from Sunderland, and is expected to fetch about £15,000.
Auctioneers Anderson and Garland are anticipating telephone bids from all over the world for Tuesday's sale.
Steven Moore, from Anderson and Garland, said: "They are private, family photographs of a famous star and they illustrate the personal life behind the famous face.
"These are extremely rare photographs which people are not going to see anywhere else, and I believe they will be of huge interest."
Other pictures show Stan and Oliver Hardy at events and on film sets, including one of the pair behind the bar of a pub in Sunderland.
Stan Laurel was born in Furness, now in Cumbria, but spent much of his life in the north-east of England. He went to school in Bishop Auckland, County Durham and his father managed a number of theatres around the region.
He went to school in Tynemouth, and statues have been erected in his honour in North Shields and Ulverston, Cumbria.