Rare plant to be returned to wild in Surrey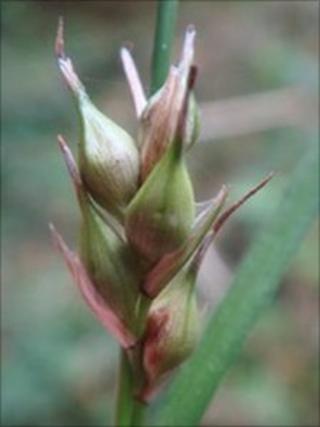 A rare plant is to be reintroduced in Surrey after a conservation project by staff at Kew's country garden in Sussex.
Staff from Wakehurst Place collected seed from a starved wood-sedge, or Carex depauperata, found in 1992 in a small surviving population in woodland.
They grew more plants in the nursery as well as collecting seeds for the Millennium Seed Bank.
More than 50 plants will be transferred to the wild later this month.
Ted Chapman, head of the Plant Propagation and Conservation Unit, said: "The Carex plants we are reintroducing derive from a single specimen donated to Wakehurst as a plant, rather than seeds.
"It was collected from the tiny surviving population in a secret Surrey wood back in 1992.
"This single plant has been increased by division on the nursery at Wakehurst."
Disappeared in 1940s
And he said seeds were collected each year to be stored in underground vaults in Sussex where some of the world's most important plants are kept safe.
After enough seeds were gathered, the parent plants were put in gardens at Kew in London and at Wakehurst Place in a collaboration between the Royal Botanic Gardens and the charity Plantlife.
Some plants remained in the nursery which were increased to produce 55 plants that will be reintroduced into the wild on 21 September.
Mr Chapman said starved wood-sedge was a familiar feature in Surrey at the beginning of the 20th Century, but had disappeared by the 1940s.
The plant is found in two other places in the UK - in woodland near Godalming railway station and in Somerset.
The site where the plant is to be reintroduced in Surrey has not been revealed.