Economic resilience a tale of two cities in West Yorkshire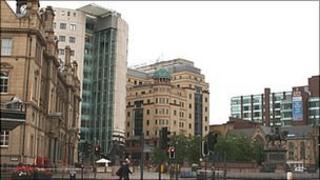 West Yorkshire's resilience to future economic shocks is a tale of two cities with Leeds and Bradford set for contrasting fortunes, a study suggests.
Leeds is likely to have the best of times and its neighbour Bradford the worst, according to research commissioned by the BBC from Experian.
It ranks the 324 English councils in terms of their resilience to economic shocks, such as public sector cuts.
Leeds ranks 187th for overall resilience, with Bradford at 279th.
Dr Damian Ward, an economist at Bradford University, said: "You would not be surprised to see Leeds higher than Bradford.
"You can see the vibrancy in the economy in and around Leeds. If you walk out of the train station in Bradford you can see the problems they are dealing with."
He said Bradford Council's ambition to regenerate its city centre had been held back by a lack of funding from central government.
"Bradford has had a vision for its city centre for a number of years but the instant they want to make that vision into a plan they are constrained by the public purse," said Dr Ward.
The Experian research aims to show the ability of areas to withstand and respond to shocks such as job cuts.
But it does not indicate the areas which will suffer the biggest public sector cuts after the government's October spending review.
Researchers looked at four key themes - business, community, people and place and 33 different factors were examined to produce the index.
These included the strength of the local business base, people's skill levels, life expectancy, crime rates and house prices.
They found that Leeds had a relatively high proportion of businesses in high growth sectors, such as high-tech manufacturing, ranking 123rd out of the 324 areas. In contrast Bradford comes a lowly 248th in terms of high-growth business.
Leeds also has a low proportion of businesses in sectors considered to be vulnerable, such as engineering, construction, metals and chemicals, ranking 213th.
The lowest levels of "community resilience" were found in Bradford (320th) and Kirklees (296th).
Leeds, Bradford and Kirklees all ranked in the bottom fifth in England in terms of vulnerability to long-term unemployment and scored poorly for levels of social cohesion and deprivation.
Bradford also has one of the lowest life expectancies in the country, ranking 280th for men and 320th for women.
Wakefield has a low proportion of the workforce qualified to at least NVQ level 4, which translates into high levels of people in elementary occupations on low average earnings.
Kirklees and Bradford perform least well in terms of "resilience of place" - both have high crime rates and low proportions of green space.
In terms of overall resilience, the other main areas of West Yorkshire all rank in the bottom third in England, with Wakefield 268th out of 324, Kirklees 265th and Calderdale 211th.
Spending Review: the Look North debate is on BBC One on Thursday at 2235 BST, presented by Harry Gration. Radio Leeds debate and phone-in on Friday from 0900 BST.