South East open days reveal fishing secrets of Hastings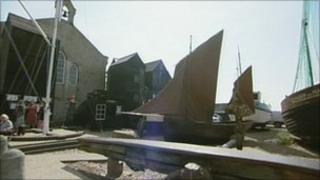 The chance to view archive film of Hastings fishing fleet and see inside the town's historic net shops is included in 2010's Heritage Open Days.
The 1914 footage will be shown during the four-day event organised by English Heritage, which showcases hundreds of buildings across the South East.
The net shops - tall wooden sheds used for centuries by local fishermen - are not normally open to the public.
It is the first time the fishermen have taken part in the annual open day.
English Heritage chose Hastings to launch the 2010 South East Heritage Open Days, which will be under way from Thursday until Sunday.
Elsewhere in Sussex, the University of Chichester is opening a number of historical buildings on its Bishop Otter Campus, including University House.
Visitors will be able to see room E124, which was used as a control room for 56 squadrons of the RAF involved in the airborne invasion of Normandy in World War II.
The Bishop Otter Training College, as it was then known, was taken over by the Air Ministry in 1942.
In Surrey, the Grade II listed Reigate Town Hall, built in 1901, will be open, giving visitors the chance to see a collection of paintings by William Tattor Winter.
Also in Surrey, there will be a Vile Victorians walking tour of Dorking exploring evidence of the life of the town before flushing toilets, cars and television.
In Kent, life in Norman times will be recreated in the grounds of Canterbury castle with demonstrations of leather working, net making, weaving and cookery.
And visitors to the Grange in Ramsgate will be given a rare opportunity to view Augustus Pugin's home which he build in the Gothic style in 1845, and where he produced his designs for the House of Lords.