Teams' 57-hour football marathon for meningitis charity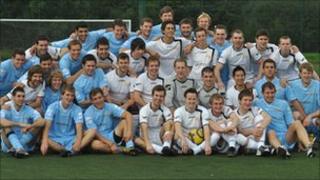 Two teams raising money for charity plan to play football constantly for 57 hours as they seek a world record.
The challenge at the University of Warwick until Sunday evening is the equivalent of playing a full, 38-game Premier League season continuously.
The players from the Leeds Badgers and the Warwickshire Wolves hope to raise £10,000 for The Meningitis Trust.
Ex-Liverpool and Wales striker Ian Rush, who had meningitis aged six, said: "I'm sure they'll do it."
'On the map'
The amateur footballers will each have to play about 29 hours in order to beat the record.
During the match they are allowed only a five-minute break each hour and will play in each of the 11 positions.
The players previously held the world record of 36 hours last year, when more than £5,000 was raised for the charity and 540 goals were scored.
But a new record of 42 hours and five minutes was set in Qatar in May this year, organisers of the University of Warwick event said.
The money is being raised in memory of Jamie Burdett, who played for the Badgers team and died from meningitis.
Rush, who scored more than 200 goals for Liverpool, said he spent six weeks in an oxygen tent while being treated for his meningitis.
"I was just very, very hot," he said.
"In those days my family didn't have a fridge. My mum just set out to get some ice from the next door neighbour's fridge.
"They [experts] said it could leave brain damage or anything, but I was very, very lucky."
Rush, an ambassador for The Meningitis Trust, urged people "to dig deep into their pockets", saying "the guys are putting football and meningitis on the map".
Organiser Simon Lynes said: "The 36-hour event last year was tough, but we raised a lot of money for the charity and it was frustrating to see our record get broken so quickly.
"We are a year wiser now, we've been training hard and I think people will struggle to beat this one."
The event started at 1100 BST and the players are due to finish at 2000 BST on Sunday.