Yorkshire Ambulance Service 999 response times improve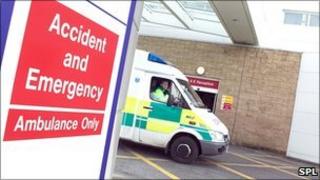 Yorkshire Ambulance Service (YAS), which had the worst 999 response times in England last year, has shown a marked improvement, a report has shown.
In April, YAS was given seven months to improve after failing to meet a target of responding to 75% of emergency call-outs within eight minutes.
The Care Quality Commission (CQC) said the service had now hit that target.
As a result, legal conditions which were placed on its registration with the CQC have been lifted.
Jo Dent, CQC regional director in Yorkshire and Humberside, said: "When we imposed the condition in April we did so against a backdrop of historical failure.
"It is a credit to the trust that in the first four months of 2010-11, response times have been over and above the 75% target.
"I know that an enormous amount of work has gone into meeting the target."
In April, YAS was one of 22 trusts judged not to be meeting essential standards of quality and safety and it was only registered on the condition that it made improvements.
In June, separate data from the NHS Information Centre showed that in the year to April 2010, YAS only reached 70.8% of emergency call-outs within eight minutes - the lowest figure in England.
The poor performance prompted the CQC to demand the trust take urgent action to ensure that by 31 October 2010 it was responding promptly to emergencies defined as "immediately life threatening".
On two visits during the summer, inspectors found that "response times have improved markedly", the CQC said.
YAS provided data which showed that between April and August 2010 it responded to 76.1% of category A calls within eight minutes. For the month of August, the figure was 78.8%.
Rapid response
It said a new rota system ensured staffing levels were being matched to expected demand for services.
The trust was also working with local hospitals to speed up the hand-over of patients from ambulances to A&E staff.
It had also started using rapid response vehicles as an initial response to incidents, with back-up from ambulances if appropriate - a system used in other parts of the country.
Ms Dent added: "While we have removed the condition from the trust's licence, we will be watching closely and expect to see these improvements maintained.
"The trust faces a number of challenges in delivering its ambitious plan for improvement.
"We want to see that ambition translate into lasting benefits for patients."