Missing boy's foster parents 'faced court action'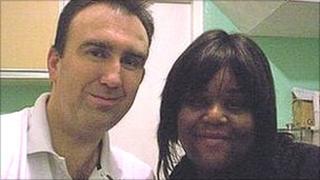 A couple who have gone missing with a four-year-old boy were facing court action over his return, it has emerged.
The child, Kanan, was in the foster care of Darren and Marcia Langton and was due to go back to Newham Children's Services in east London on Tuesday.
A search began when they did not meet social workers and were not at their home in Skegness, Lincolnshire.
Newham Council said it had "serious concerns" about an adoption and added it was now working with police.
Lincolnshire Police said they had information Mr Langton was in Skegness as late as Thursday morning, while Mrs Langton was believed to be in the Doncaster area, where the couple used to live.
Increased concerns
A Newham Council spokesperson said: "The biggest priority at this stage is Kanan's safe return to our care. We have been working closely with the police to make sure that he is found as quickly as possible.
"Kanan was placed with the couple 16 months ago. They were being considered as suitable adopters.
"In recent weeks we were made aware of serious concerns which led us to take court action to return him to our care. This action by the council led to the couple's disappearance and we alerted the police straight away."
Mr Langton, 40, is described as white and slim, with short dark hair. Mrs Langton, 46, is black and of average build with collar-length hair.
Det Insp Andy Wardell, of Lincolnshire police, said that while there was no evidence to show Kanan had been mistreated, they were still concerned for his well-being and have appealed for information.
"He is now in circumstances which he is not familiar with.
"We cannot confirm - because of the length of time since he was last seen in Skegness - where he is living, is he receiving the right level of care, is he in a safe environment?
"Those are the things that cause us the greatest amount of concern and obviously, with the amount of time it has been since last seen safe and well, the longer that goes on, the more our concerns are raised."
Police want anyone with information to contact officers.