Body of MI6 worker Gareth Williams 'locked in bag'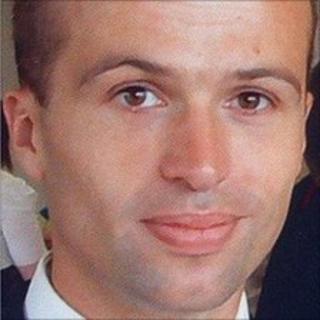 The body of an MI6 employee found at his flat was padlocked into a sports bag, an inquest has heard.
Gareth Williams, 30, originally from Anglesey, was discovered dead in the bath at his home in Pimlico, west London, on 23 August.
A post-mortem examination was unable to establish how Mr Williams died.
At the opening of the inquest into his death at Westminster Coroner's Court, the coroner revealed the body was locked inside a sports holdall.
Dr Paul Knapman told the hearing that the information he had from the police was that Mr Williams' body was in a large holdall in the bath of an en-suite bathroom of the main bedroom.
The hearing was told that the body was in an advanced state of decomposition.
The inquest has been adjourned.
BBC Home Affairs correspondent Danny Shaw said details of the padlock "clearly indicates someone else was involved" in the incident.
'Maths genius'
The body was discovered when officers broke into the Alderney Street flat after colleagues said Mr Williams had not been seen for at least 10 days.
Police are treating the death as "suspicious and unexplained".
Toxicological tests are being carried out to ascertain whether Mr Williams - described as a "maths genius" - had traces of drugs or alcohol in his system.
On Saturday police warned it could be several days before the tests, which also hope to detect signs of asphyxiation or poisoning, are concluded.
'Very private person'
Mr Williams is believed to have lain undiscovered for a lengthy period, with the last confirmed sighting of him alive on 15 August.
His family has issued a statement which said: "Gareth was a generous, loving son, brother, and friend, and he was a very private person.
"He was a great athlete, and loved music.
"His loss has devastated us and we would ask that anyone with information come forward and assist the police enquiry."
Mr Williams, a keen cyclist, graduated with a first class degree in maths from Bangor University aged 17.
He worked at the government listening post GCHQ in Cheltenham and was on secondment to MI6's headquarters on the bank of the Thames in London.