Former Woolworths store in Newhaven to reopen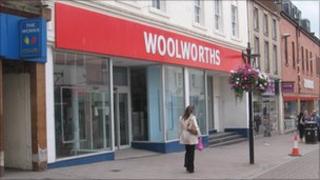 A former Woolworths store in East Sussex is to reopen more than a year and a half after the retail chain went into administration.
The store, in High Street, Newhaven, will reopen as Alworths, selling a range of goods similar to those sold by Woolies, and creating 12 jobs.
It is the 14th Alworths store opened by former Woolworths manager Andy Latham, whose HQ is in Redhill, Surrey.
He said he believed there was still a market for local high street shops.
'Made most money'
"Newhaven is a really good example of where we believe there is a market opportunity," he said.
"There are supermarkets and big towns and cities nearby, but we believe there is a need for shopping in local high streets.
"That is where Woolworths was most profitable and made most of its money."
The Newhaven store is due to open on 10 September, two days after Alworths opens in Swadlincote, Derbyshire.
As well as its store staff, Alworths also employs 15 in Clarendon Road, Redhill.
Other Woolworths stores have been reopened as Wellworths or Smallworths stores, although 40% of the chains' former shops remain shut.
The store in Rye, East Sussex is to reopen as a public library by the end of 2010.