Dame Vera backs 'people's port' for Dover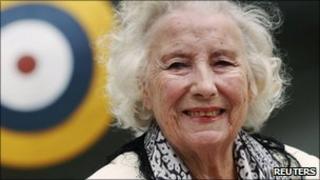 Dame Vera Lynn says she would support a scheme for local people to buy the port of Dover, if the government decides it should be privatised.
Forces sweetheart Dame Vera, who sang (There'll Be Blue Birds Over) The White Cliffs of Dover during World War II, said it was an important landmark.
Conservative MP for Dover and Deal, Charlie Elphicke, has proposed that Dover becomes a "people's port".
The government is expected to make a decision on privatisation this autumn.
The port has operated as a trust for 400 years and with no shareholders all revenue goes back into the business.
'Gateway to England'
The Port of Dover board asked for government approval for privatisation in January. A second public consultation on the scheme ended last week.
"Dover is the gateway to England and if it is not going to remain in the hands of the nation it should remain in the hands of the community," said Mr Elphicke.
"I'm encouraged that the ferry companies support this plan and the trade unions tell me they like it as well.
"People universally tell me they like this plan. My job is to try and make it happen."
Dame Vera, who lives in East Sussex, said Dover and the white cliffs meant a lot to local people.
"I would support the campaign for the local people to manage it," she said.
"It was such an important scene for the boys who were going away, and when they came back."
Mr Elphicke has said his scheme would involve setting up a community trust which local people could join "for a tenner" which would raise cash in the money markets to buy the port.
The Unite union last week said privatising Dover would be against the national interest.
But the Port of Dover board said it would be for the long-term benefit of UK transport and the UK economy.
"As a trust port, the Port of Dover is unable to finance significant additional capacity when required as its status as a public corporation does not allow it to borrow," it said.