Bill Bryson joins friends for fundraising walk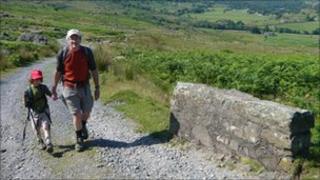 Author Bill Bryson has joined a fund-raising walk to support a friend whose family has battled cancer twice.
Durham University professor Jon Davidson, 50, underwent a bone marrow transplant after he was diagnosed with Acute Myeloid Leukaemia.
It came two years after his son Max, now eight, was treated for Acute Lymphoblastic Leukaemia.
Mr Davidson set off from Cumbria for the coast to coast walk and Mr Bryson joined him for the first stage.
It is hoped the 200-mile walk, which started at St Bees, in Cumbria, and will finish at Robin Hood's Bay on the east coast, will raise thousands of pounds for cancer charities.
Mr Davidson is doing the walk with Craig Wilson, a managing director at Hewlett Packard.
Max is now in remission after a three-year course of treatment. Both were treated at Newcastle's Freeman Hospital and the Royal Victoria Infirmary.
'Tremendous strength'
Bill Bryson, who is also Durham University Chancellor, was joining the pair for the first two days of the walk.
He said: "Jon and Max have shown tremendous strength and determination to overcome their illnesses.
"As a family friend, I am delighted at the progress they have made and I am extremely pleased to support this fund-raising walk for such a worthy cause."
More than £10,000 has been raised so far.
Mr Davidson said: "I'm much better now and Max is also doing well thanks to the excellent care that we've received.
"Our family and friends want to say 'thank you' to all those who have cared for and helped us through a very difficult period.
"By walking this beautiful path between the west and east coasts we hope to raise awareness and money to help leukaemia sufferers, and we're delighted that Bill Bryson can join us."