Norfolk RSPCA cleans oil-covered swans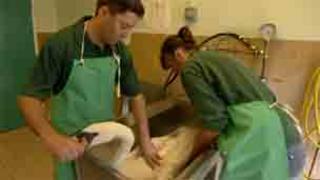 A wildlife centre in Norfolk has cleaned up 27 swans contaminated with oil after they were found on the River Nene in Cambridgeshire on Tuesday.
The RSPCA believes more affected swans could still be on the river in the Peterborough area and staff are making patrols to find them.
They will then be taken to the RSPCA wildlife hospital at East Winch, near King's Lynn, to be cleaned.
The centre said the cleaned and dried swans would be taken back to the river.
Alison Charles from the RSPCA said: "We have rounded up as many as we can and our ambulance drivers are out there trying to catch any stragglers.
"Hopefully we'll catch the last few as soon as we can because it's important to get them cleaned quickly.
"They may have ingested some of the oil so we've used charcoal to flush that out and hopefully they'll be alright."
The Environment Agency is monitoring the River Nene to find the source of the oil leak.
They suspect a nearby culvert has collected oil-contaminated water from nearby roads. A boom has been erected to prevent further leaks into the river.