Father and son hit by boat propeller in Pentewan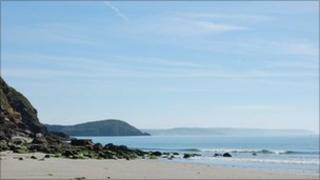 A father and son have been injured after being thrown from their boat off the coast of Cornwall.
Brixham Coastguard said the two men, aged 41 and 25, from Stoke-on-Trent, were then run over twice by the boat' s outboard motor on Friday afternoon.
The alarm was raised by members of the public who witnessed the accident at Pentewan Sands, near Mevagissey.
The father and son suffered serious head and leg injuries, and were taken to hospital in Truro.
The father was airlifted by helicopter to the Royal Cornwall Hospital, while his son was transferred by land ambulance.
They are believed to be in a serious but stable condition.
The Maritime and Coastguard Agency (MCA) said the men were thrown from their 17ft (5m) dory at about 1520 BST on Friday.
The weather on scene was a calm sea, good visibility and light winds, the MCA said.
Spokesman Nick Ratcliff said: "It seems the vessel had somehow hit the bottom and thrown both father and son out, and the uncontrolled boat had then circled, hitting them both twice.
"They had both been hit by the boat's propeller."
The vessel was recovered by the Fowey RNLI all-weather lifeboat after it ran out of fuel and hit rocks nearby.
Coastguards said that a kill cord - which cuts the engine if pulled, and is recommended to be attached around the leg of the driver - was found to be wrapped around the steering column.
Mr Ratcliff said: "We urgently recommend to boaters that the kill cord be attached around your leg or securely to your personal buoyancy aid.
"In either case it should not foul the steering or gear controls."
The MCA said the Marine Accident Investigation Branch had been informed and the boat taken away for investigation.