Redcar Corus steel plant: discussions over £320m sale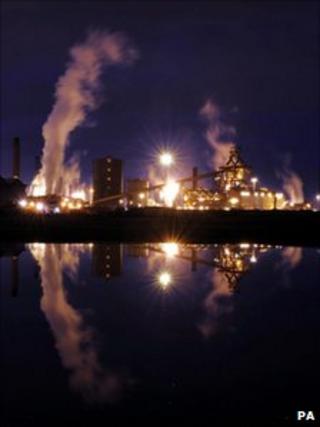 A £320m deal to sell Teesside's Corus steel plant - mothballed with the loss of 1,600 jobs - is being discussed.
Teesside Cast Products (TCP) was partially mothballed in February when a consortium pulled out of a deal.
Thai steel company SSI has now signed a memorandum of understanding to buy the Redcar site from Corus.
If the deal goes through, a "significant" number of jobs would be created in addition to the existing workforce of over 700.
Corus managing director Kirby Adams said: "We are very pleased to announce this significant progress in our long-held objective to sell the TCP assets to a strategic industry investor.
"This is the first of several steps required to reach a definitive sale agreement in the coming months which, with the anticipated co-operation of government, employee representatives and the North East community, should result in the restart of steelmaking on Teesside in the first half of 2011."
'Fantastic news'
SSI president Win Viriyaprapaikit said: "We have great respect for the tradition of steelmaking on Teesside and for the highly skilled Teesside workforce, having previously purchased slab from Teesside Cast Products."
The news was welcomed by union leaders and politicians.
Geoff Waterfield, site multi-union chairman, said: "This is fabulous news. We are all overjoyed.
"It's been a difficult time for everybody and we have been bound by confidentiality arrangements. Now we can meet and start talking to SSI and Corus."
Unite national officer Terry Pye said: "Last year this site was pronounced dead, but thanks to the intervention and determination of the workforce and their unions to find a buyer, this steel plant has been brought back to life.
"The deal secures jobs for the future and generates wealth and opportunity for the local community. This is fantastic news."
Redcar and Cleveland Council leader George Dunning said: "This is fantastic news for not only those people who lost their jobs but for the Redcar and Cleveland area.
"If everything goes ahead it has the potential to provide a double boost for the area following the recent announcement by Corus of a new £31.5m manufacturing plant in the area.
"I can't wait for the terms of the sale agreement to be finalised and then we can truly celebrate restoring steelmaking to Teesside and the TCP plant."
The plant was mothballed after an international consortium pulled out of a 10-year-deal to buy its steel.