Worcestershire and Birmingham stroke volunteers wanted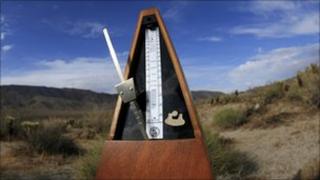 Researchers are appealing for stroke survivors with muscle weaknesses and mobility problems to take part in tests that may help to improve their walking.
The sound of a metronome, used by musicians to keep time, may help stroke survivors take more even steps, researcher doctor Rachel Wright said.
Her three-year-long project is jointly being carried out by the Universities of Birmingham and Worcester.
Dr Wright said better walking symmetry should help to cut the risk of falling.
Her team is looking for volunteers from Worcestershire and Birmingham to take part in trials funded by the Stroke Association, which could lead to home-based exercise programmes to aid rehabilitation.
Walking speed
"Previous work has suggested a metronome can help stroke survivors with the timing of their steps, but it is not really known at the moment quite how it helps, so we are trying to investigate in greater detail the benefits the metronome might have and the optimal set-up," she said.
The volunteer is taken into a room and the sound of a metronome is played to them while they walk.
Cameras linked to a computer are then used to analyse the volunteer's gait.
In 2009 the Department of Health said about 770 people were taken to hospital in Worcestershire with a stroke and about 80% of them experienced muscle weakness on one side of their body afterwards.
Dr Sharlin Ahmed, from the Stroke Association, said: "For many stroke survivors walking speed is reduced significantly after a stroke and walking with ease, in a straight line can be incredibly difficult.
"We're delighted to be funding this study and look forward to hearing how it progresses."