Fifty firefighters tackle fire at London car park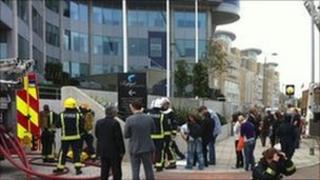 More than 100 people had to be evacuated from a nine-storey building after a fire broke out in a basement car park in south-west London.
The fire started in an underground car park at about 1740 BST on Thursday.
London Fire Brigade (LFB) said that about 120 people were evacuated from the Hotel Rafayel in Lombard Road, Battersea, and an apartment block.
No injuries have been reported. The fire was under control by 2130 BST.
LFB said it did not yet know how the fire had started and firefighters remained at the scene.
One resident in the building said: "We're still not allowed down there so I don't know if my car was damaged or not.
"It was apparently a car that caught fire - there are lots of expensive cars down there.
"The firemen were exhausted - one guy said that it was the most low visibility fire he'd ever been in."
This story was changed following further information from the London Fire Brigade.