Lawyers pursue Godstone Farm E.coli claim in Surrey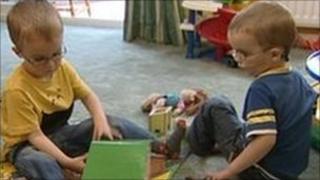 A mother's claim for damages against a farm where her twins fell ill with E.coli may now go to the High Court for a full trial, lawyers have said.
Tracy Mock is bringing a claim against Godstone Farm after Todd and Aaron Furnell, three, were infected.
The law firm, Field Fisher Waterhouse, acting for Ms Mock, issued court proceedings against the farm in June.
Lawyers said the Surrey farm's owners have since declined to admit liability for the twins' illness.
Jill Greenfield, the firm's personal injury partner, said it means the case will potentially now go for trial.
In the outbreak at Godstone last August, 93 people became infected, including 76 children under the age of 10.
The Furnell twins suffered kidney failure and spent several weeks in hospital.
'No alternative'
Both children may need kidney transplants in the future, and until recently Aaron needed a feeding tube for liquids.
Field Fisher Waterhouse is representing 17 families, including 25 children and one adult who caught the bug.
They expect to add them to the group legal action later.
An independent inquiry into the outbreak was led by Professor George Griffin, the professor of infectious diseases and medicine at the University of London.
It concluded that public safety had been "neglected" as better procedures at the farm could have stopped the outbreak, while quicker action by health officials could have limited it.
Jackie Flaherty, owner of Godstone Farm, said she was unable to comment while proceedings were under way.