CBBC presenter Holly Walsh hurt in Birdman competition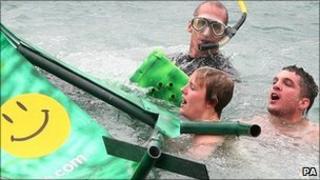 A CBBC presenter has been injured after leaping from a pier during the annual Worthing International Birdman festival.
Holly Walsh was rescued from the water by a safety boat at the event and placed on a spinal board before being taken to hospital by ambulance.
Her injuries included a suspected dislocated shoulder and fractured arm.
Competitors try to "fly" the furthest off the West Sussex town's pier.
Some 10,000 spectators were thought to have attended the second day of the two-day event, which was suspended for about 20 minutes as Ms Walsh was rescued from the water.
Ms Walsh, who was raising money for Rainbows Children's Hospice, had leapt from the pier in a mock helicopter.
Shoreham lifeboat spokesman Dave Cassan said: "We can confirm we were tasked to get a person out of the water.
"It appears she entered the water wrong."
Competitors - or so-called "fun flyers" - dress in elaborate costumes.
Entrants included a pair dressed as the Owl and the Pussycat complete with rowing boat, and Batman and Robin.