Soham killer Huntley 'should not sue' over jail attack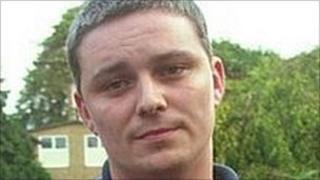 Soham murderer Ian Huntley should drop a compensation claim against the Prison Service after an inmate slashed his throat, victims campaigners have said.
The former school caretaker will claim the service failed in its duty of care towards him over the incident.
Campaigner Ann Oakes-Odger, whose son Westley was killed in a knife attack in 2005, described Huntley's decision to sue as an "absolute moral obscenity".
She asked why he had access to legal aid if victims' families did not.
Huntley, 36, killed 10-year-olds Holly Wells and Jessica Chapman in 2002.
A Ministry of Justice spokesman said the compensation claim would be "vigorously defended".
'Quite immoral'
Ms Oakes-Odger said: "When somebody has a child murdered or a loved one murdered the life that they knew prior to that ceases to be.
"There's a line drawn under what they knew as a family life, their health suffers, many people lose their homes because they cannot work, and there's no real access to compensation for them.
"We have to get back to the situation where there's a level playing field. This is quite immoral that we are having this discussion about a man that took the lives of two small children.
"Why should he have access to legal aid when victims' families do not have that right?"
Earlier this year the then Justice Secretary Jack Straw said the government had "absolutely no intention" of paying compensation to Huntley over the attack.
At Commons question time it emerged he could be awarded up to £20,000 if a claim for negligence were successful.
Norman Brennan, founder of the Victims of Crime Trust, said that if Huntley won his claim, his victims' families should sue him.
Mr Brennan said: "If Huntley had the slightest remorse for the terrible murder of these two girls he would drop the case immediately and get on with serving his sentence, and just be thankful it's not pre-1967 when he may well have been sentenced to the hangman's noose.
Razor blade
"The compensation culture in Britain has turned our criminal justice system on its head. What message is sent out when the two families in this matter received maximum £11,000 and yet Huntley, for injuries received while serving a sentence, could get many times that.
"Huntley is the one responsible for being in prison. He should shut up."
In September 2005 Huntley was scalded with boiling water at Wakefield Prison.
He had been in the health care wing of the West Yorkshire jail at the time of the attack.
In 2008 Huntley was moved to HMP Frankland, a Category A high security men's prison.
While at Frankland he was attacked and slashed across the throat by a prisoner who was said to have been armed with a razor blade.
It is believed that Huntley has tried to commit suicide three times since his conviction in December 2003.
A Ministry of Justice spokesman confirmed the legal action by Huntley, who is understood to be claiming £20,000 for injuries suffered and a sum - put at £60,000 in one report - for failure to uphold the duty of care.
"Ian Huntley is bringing a claim against the Ministry of Justice following an assault by another prisoner," the spokesman said.
Juliet Lyon, of the Prison Reform Trust, said it was a difficult issue for the government to handle, as Huntley had committed such a heinous crime, but there was a principle that prisons needed to be safe places.
She told BBC Radio 4's Today programme: "The issue of safety and security is absolutely a bedrock one.
"It's a difficult place now for the Ministry of Justice because they have to hold that line. If a court sentences someone to custody they're not sentencing them to be attacked.
"We have to expect that our prison service is going to be a safe, secure place. What happens thereafter if that breaks down, if the staff aren't able to hold that line, it's then up to the individual to pursue any means that they're able to."
'Violent place'
Colin Moses, national chairman of the Prison Officers Association (POA), said a "compensation culture for inmates" was developing within the prison service.
He said: "This claim has to be set against the levels of compensation for staff who are attacked.
"We have to fight for every penny we can for members, who are working in what is now a very violent place.
"It was my members who saved Mr Huntley after this attack, it will be my members who continue to save him if he is attacked again."
Grimsby-born Huntley was a caretaker in the Cambridgeshire village of Soham when he enticed Holly and Jessica into his home.
The girls were killed and their remains hidden.
He was convicted with his then girlfriend Maxine Carr who had worked as a teaching assistant at the school.
She was found guilty of perverting the course of justice but has since been released and given a new identity.