Police finish search of Tobin's former Portslade home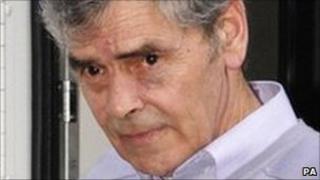 Police searching for bodies in serial killer Peter Tobin's former homes have ruled out one of the properties.
Officers and archaeologists had been excavating the garden and digging up the basement at the house on Station Road in Portslade, East Sussex.
Tobin, 63, who killed Angelika Kluk, Vicky Hamilton and Dinah McNicol, lived in the property in the 1980s.
Officers said they were "fully satisfied" the property was not linked to any criminality in regard to Tobin.
Police search teams, scenes of crimes officers and forensic archaeologists had spent nine days conducting extensive searches of the rear garden and ground floor and basement areas of 67 Station Road.
Det Ch Insp Nick Sloan, of Sussex police, said ground-penetrating radar was used to map out any unusual fluctuations in the ground in the garden and the property.
"Areas which necessitated further exploration have been excavated and literally every shovel full of earth or concrete has been analysed, sifted and metal-detected by Sussex Police search teams and archaeologist experts from University College London," he said.
A Victorian well in the garden was also excavated.
Det Ch Insp Sloan added: "We have used a team of specialists and experts throughout this operation and I am satisfied that we have conducted a thorough and meticulous search and that this address is unconnected to any criminality linked to Peter Tobin."
He went on to thank the occupants and businesses of Station Road for their patience in the light of the disruption, and the wider community who may have been temporarily inconvenienced by the police search.
Sussex Police said the focus of the searching would now be at 152-154 Marine Parade, Brighton, another former home of Tobin.
Test trenches were dug in the garden of the property for soil sample analysis last week.
The operation is part of a nationwide investigation, called Anagram, to see if Tobin is responsible for other murders.
He was told in December 2009 he would never be freed from prison when he was sentenced for strangling 18-year-old Miss McNicol.
Tobin, of Johnstone, Renfrewshire, was already serving life terms for the murders of Miss Hamilton, 15, and 23-year-old Miss Kluk, a Polish student whom he killed in Glasgow in September 2006.
In 2007, detectives discovered the remains of Miss Hamilton, from Bathgate, near Edinburgh, and Miss McNicol, from Tillingham in Essex, buried in the garden of a house in Margate, Kent, to which Tobin had moved to in March 1991.