Half-hourly Chase Line train services to be axed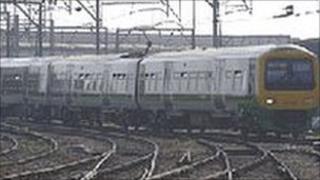 Half-hourly train services between Walsall and Staffordshire are to be axed.
The off-peak services on London Midland trains to Rugeley on the Chase Line had been subsidised by Centro, the West Midland transport authority and the Department for Transport. (DfT)
After a cost analysis spending review both Centro and the DfT said the extra services would stop in December.
Centro said the cost equated to a subsidy of £7.18 per passenger.
It said the total projected cost for 2011 of the off-peak half-hourly service was about £290,000 and it felt it was "not appropriate" for West Midlands tax payers to subsidise services in Staffordshire.
With the exception of Walsall, all of the stations served by the extra trains are in Staffordshire.
'Poor value'
It said Cannock Chase District Council and Staffordshire County Council had offered to pay £50,000 between them for the extra services, but after the withdrawal of the DfT funding that left a funding shortfall of £240,000.
A Centro spokesman said: "Given the current economic climate, Centro feels that it is not appropriate for West Midland's taxpayers to pick up the bill to subsidise services for Staffordshire residents especially when the service offers such poor value for money."
Centro is a public body that is funded mainly through council taxes from Birmingham, Coventry, Dudley, Sandwell, Solihull, Walsall and Wolverhampton councils.
It has agreed to continue funding some extra-evening services between Birmingham, Walsall and Rugeley Trent Valley and said it was also working with London Midland about the possibility of running extra Saturday services to match customer demand.