Basement excavated at Tobin house in Portslade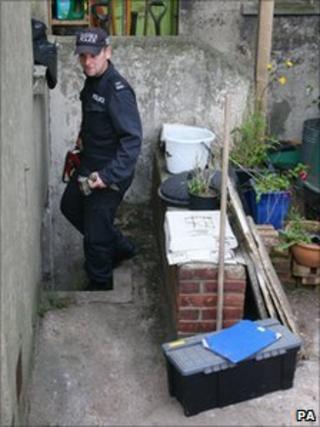 Police searching a former home of serial killer Peter Tobin have begun digging up the basement.
Drilling and digging work started at 0900 BST at the house on Station Road in Portslade, East Sussex.
Tobin, 63, who is serving three life terms for the murders of Angelika Kluk, Vicky Hamilton and Dinah McNicol, lived at the property in the late 1980s.
Police believe that Tobin - who has been told he will die in prison - could have carried out more murders.
People living near the house have been sent letters warning them about the work, and a drop-in facility will be set up at the nearby United Reform Church on Sunday evening.
Minister at the church Alex Mabbs said he would be praying during Sunday's services for the relatives of those killed by Tobin.
"Our thoughts are, well my thoughts certainly, with family for whom this is bringing up the possibility of closure on something that's been a tragedy for them so long ago - and obviously brings it all to the fore for them.
"So we'll be praying for families of Peter Tobin's victims and also for the police... it must be a disturbing, quite traumatic thing for the police to be working on."
Miss McNicol's father, Ian, said the latest search was important for worried families.
"I would like to speak to them just to say you are not alone because nobody can feel how we feel after finding our daughters...(and) being able to put them to rest and being able to grieve.
"You never stop grieving. But, being given the opportunity to grieve - it's a fantastic thing."
Searches are also taking place at another former home of Tobin's, in Marine Parade in Brighton.
A police presence will remain at both locations throughout the investigation, which is expected to continue for up to a month.
On Wednesday, a Victorian well behind the Station Road house was excavated to about 10ft (3m) deep.
Police said the soil was removed and forensically examined, but there were no concerns about any link to crimes.
Test trenches have been dug in the garden of the property in Marine Parade for soil sample analysis.
The search teams, armed with ground-penetrating radar and shovels, began their work on 12 July.
The operation is part of a nationwide investigation, called Anagram, to see if Tobin is responsible for other murders.
He was told in December 2009 he would never be freed from prison when he was sentenced for strangling 18-year-old Miss McNicol.
Tobin, of Johnstone, Renfrewshire, was already serving life terms for the murders of Miss Hamilton, 15, and 23-year-old Miss Kluk, a Polish student whom he killed in Glasgow in September 2006.
In 2007, detectives discovered the remains of Miss Hamilton, from Bathgate, near Edinburgh, and Miss McNicol, from Tillingham in Essex, buried in the garden of a house in Margate, Kent, to which Tobin had moved to in March 1991.