Second Raoul Moat Facebook tribute page put up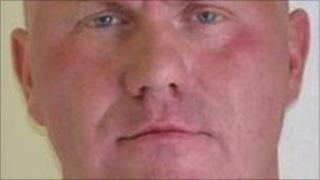 Another Facebook page sympathising with gunman Raoul Moat has appeared - just hours after the first one was removed.
The RIP Raoul Moat You Legend page, which attracted 35,000 members, was removed after it came under fire from Prime Minister David Cameron.
Another page, with 12,000 members, has gone up describing Moat as a "loving father and canny lad".
The 37-year-old was on the run in Northumberland for a week after shooting three people, one fatally.
The former Respect MP, George Galloway, said he believed the tribute page reflected the beliefs of a section of society.
He said: "I think it is a cry from the heart from poor, white, working class, unemployed people who are drifting on to dangerous shores.
"They hate the government, they hate the police, they hate society and feel left behind."
Moat shot his former girlfriend Samantha Stobbart, 22, killed her new partner, Chris Brown, and wounded Pc David Rathband.
He was involved in a six-hour stand-off with armed officers, which ended when the former nightclub doorman apparently shot himself in the early hours of last Saturday.
Northumbria Police has now finished searching Rothbury for weapons, meaning the village's annual music festival will get under way later.
Rothbury councillor Stephen Bridgett said local people were disgusted with floral tributes left at the spot where Moat died and wanted life to get back to normal.
He said: "Rothbury wants to move on and I've not spoken to a single person who supports the flowers.
"They are offensive and we do not want the area to become a shrine to Moat.
"The police have assured us there will be an increased presence this weekend to make sure more unwanted characters do not come to pay tribute."
Siobhan O'Dowd, who put up the original Facebook page, confirmed she had taken it down, but has not ruled out putting it back up.
She told Talksport radio she did not condone Moat's actions but said "he was still a human being".
A total of 15 people have been arrested during the Moat inquiry. - two have been charged with conspiracy to murder and have been remanded in custody.
Eight people in total have been released on bail.