No release for Yorkshire Ripper Peter Sutcliffe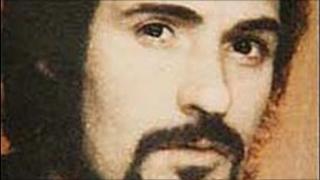 Yorkshire Ripper Peter Sutcliffe will never be released from prison, a High Court judge has ruled.
An application was made by the 64-year-old to have a minimum term set to give him the chance of parole.
The former Bradford lorry driver received 20 life sentences in 1981 for murdering 13 women and attempting to murder seven others.
Richard McCann, whose mother Wilma was murdered by Sutcliffe, described the ruling as a "small victory for my mum".
Speaking outside the Royal Courts of Justice, Mr McCann, added: "We have been fearing this moment for many years - the fear that he might get released."
In making his judgement Mr Justice Mitting said: "This was a campaign of murder which terrorised the population of a large part of Yorkshire for several years."
He added: "Apart from a terrorist outrage, it is difficult to conceive of circumstances in which one man could account for so many victims.
"Those circumstances alone make it appropriate to set a whole life term."
The serial killer, now known as Peter Coonan, is detained at Broadmoor high-security psychiatric hospital in Berkshire.
When he was jailed, a judge recommended that he served a minimum of 30 years behind bars.
He used a hammer to attack his first victim on 5 July 1975.
Sutcliffe is said to have believed he was on a "mission from God" to kill prostitutes - although not all of his victims were sex workers.
He was dubbed the Yorkshire Ripper because he mutilated his victims' bodies using a hammer, a sharpened screwdriver and a knife.
He has spent nearly all his years in custody at Broadmoor after being diagnosed as mentally ill, but refused treatment until 1993 when the Mental Health Commission ruled it should be given forcibly.
A judge recently refused to allow fresh psychiatric evidence, which said he posed a "low risk of reoffending" to be admitted as part of the tariff-setting exercise.
In making his ruling, Mr Justice Mitting said he had read statements by relatives of six murdered victims.
"They are each moving accounts of the great loss and widespread and permanent harm to the living caused by six of his crimes," he said.
"I have no doubt that they are representative of the unspoken accounts of others who have not made statements.
"None of them suggest any term other than a whole life term would be regarded by them as appropriate."
The main submission made on behalf of Sutcliffe was that the degree of his responsibility "was lowered by mental disorder or mental disability".
The judge said a psychiatrist report stated Sutcliffe had been on anti-psychotic medicine since 1993, which had successfully contained his mental illness.
But he said he did not accept that any reduction from a whole life term would be appropriate on the ground of "exceptional progress".
The husband of one of Sutcliffe's surviving victims, Olive Smelt, who was attacked as she walked home in Halifax in 1975, said the ruling was the correct decision for Sutcliffe's own good but that they rarely thought about the killer now.
Mrs Smelt, 81, was hit twice on the head with a hammer and needed brain surgery but later made a full recovery.
Harry Smelt said: "I think it's as well for him that he does have to remain in."
"Olive is severely disabled now and wheelchair-bound - the last thing she worries about is Peter Sutcliffe," he added.