Raoul Moat's tribute page removed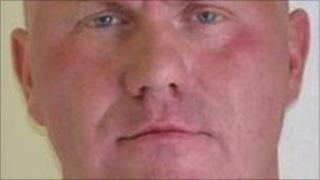 A controversial Facebook tribute page to gunman Raoul Moat has been removed by the woman who created it.
Siobhan O'Dowd confirmed she had taken the page down, but has not ruled out putting it back up.
She told Talksport radio she did not condone Moat's actions but said "he was still a human being" and everyone was entitled to their own opinion.
Moat was on the run in Northumberland for a week after shooting three people, one fatally.
Moat shot his former girlfriend Samantha Stobbart, 22, killed her new partner, Chris Brown, and wounded Pc David Rathband.
Moat was involved in a six-hour stand-off with armed officers, which ended with the former nightclub doorman apparently shooting himself in the early hours of last Saturday in Rothbury.
In a radio interview with Talksport's Ian Collins, broadcast on Wednesday night, Ms O'Dowd said: "We don't condone what he did, as what he did was wrong. I feel sorry for the families but he was still a human being at the end of the day.
"He had problems and needed help and he didn't get any help."
She added she was surprised by the reaction to the page.
Condemned by Cameron
"To be honest, I didn't think this would be the kind of reaction I would get.
"Everyone is entitled to their own opinion. Even Facebook said that and that's why they wouldn't shut it down."
The page had been condemned by Prime Minister David Cameron, who said that he could not understand the sympathy being expressed for Moat, whom he branded a "callous murderer".
But after a No 10 official telephoned the social networking site to raise Mr Cameron's concerns, Facebook put out a statement making clear it had no intention of removing the webpage.
A Facebook spokeswoman said: "Facebook did not remove the 'RIP Raoul Moat you Legend' page.
"Facebook will remove content that violates our terms when reported to us."
The spokeswoman confirmed there are only two ways of removing a page - either it is taken down by Facebook or by the user themselves.
The "RIP Raoul Moat you Legend" page on the popular social networking site had attracted around 35,000 members.
Meanwhile, police investigating Raoul Moat's case have arrested a further two men on suspicion of assisting him.
The men, aged 28 and 36, were arrested in the Newcastle area and were later released on police bail.
A total of 15 people have been arrested during the inquiry.
Of those, two have been charged with conspiracy to murder and have been remanded in custody.
Eight people in total have been released on bail.