Tobin police continue excavating East Sussex gardens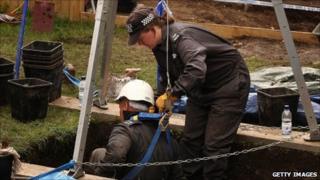 Police and archaeologists searching two former homes in East Sussex of serial killer Peter Tobin are continuing their excavations of the gardens.
On Wednesday, a Victorian well behind a house in Station Road, Portslade, was excavated to about 10ft (3m) deep.
Police said the soil was removed and forensically examined, but there were no concerns about any link to crimes.
At a property in Marine Parade, Brighton, test trenches are being dug in the garden for soil sample analysis.
Tobin, 63, who lived at both properties in the late 1980s, is serving three life sentences for murdering Angelika Kluk, Vicky Hamilton and Dinah McNicol.
Police have already confirmed the interior of both premises will be scoped as part of the investigation. They said they had not conducted any digging within the interiors of either address.
The teams, armed with ground-penetrating radar and shovels, began their search on Monday.
Police said the searches could continue for a month.
They are part of a nationwide investigation, dubbed Anagram, to see if Tobin is responsible for other murders.
Tobin was told last December he would die in jail after he was convicted of strangling 18-year-old Miss McNicol.
The former church handyman was already serving life terms for the murders of Miss Hamilton, 15, and Miss Kluk, 23.
In 2007, detectives discovered the remains of Miss Hamilton, from Bathgate, near Edinburgh, and Miss McNicol, from Tillingham in Essex, buried in the garden of a house in Margate, Kent, where Tobin moved to in March 1991.