Gunman Raoul Moat asked for psychiatric help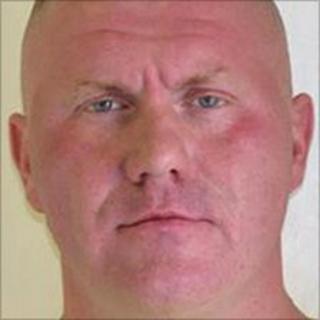 Social workers were told by gunman Raoul Moat that he wanted to see a psychiatrist in the months before he murdered his ex-partner's boyfriend.
The former nightclub doorman said he wanted help in case he had a "problem".
Moat, who died on Saturday, shot Samantha Stobbart, 22, killed Chris Brown and wounded Pc David Rathband.
Newcastle Council confirmed it had had "extensive contact" with Moat regarding two of his children. A psychological report did not recommend treatment.
The gunman was on the run for a week after the shootings before he was caught by police in Rothbury, Northumberland, on Friday evening.
He was involved in a six-hour stand-off with armed officers, which ended with Moat apparently shooting himself in the early hours of Saturday.
Six people arrested earlier in the week on suspicion of assisting an offender have been bailed pending further inquiries.
A total of 13 arrests have been made in connection with the case. Two of those arrested have been charged with conspiracy to murder and have been remanded in custody.
Police have been searching the Rothbury area as part of the investigation and are examining a number of recovered items to determine whether they were linked to Raoul Moat.
A second weapon was not found, but Northumbria Police said the possibility others existed could not be ruled out, and asked the public to remain vigilant.
Taped recordings Moat made with social workers and the police from July 2009 until about April of this year suggest he was becoming increasingly paranoid.
In one conversation he said: "I'm quite emotionally unstable you know, I get myself over-the-top happy sometimes. And I have my bad days, you know.
"The more you block things out, the more numb you become in the heart you know. You get to a point where happiness to you is just like, you know, neither here nor there."
'Open to suggestions'
The recordings were given to ITV News by a friend of Moat, who said friends wanted people to see a different picture of the father-of-three.
In one recording - made by Moat in August 2009 during a meeting with a social worker - the gunman said: "I would like to have a psychiatrist, psychologist, have a word with me regularly, on a regular basis, to see if there's somewhere underlying like where I have problem that I haven't seen.
"Why don't we just have a psychiatrist sit me down and say 'Right OK, I want to see you regularly, then we can move towards where your areas of fault are, we can enhance on these areas you know, and work with us'.
"If I'm at fault myself in any way, I'm open to all kinds of suggestions, but I refuse to spend the rest of my time fighting with social services."
Moat's brother Angus, 39, told BBC News: "If he'd the support network around him, he might not have got to where he got to.
"I think he was clearly a man who was in deeper water than people realised, including myself unfortunately."
'Callous murderer'
A Newcastle City Council spokesperson said: "[Raoul Moat's] children are the subject of family court proceedings that will decide their long-term future.
"As part of these proceedings the council did commission a report from a psychologist that examined the possibility that the children might live with Mr Moat.
"This report did not recommend any treatment, but examined Mr Moat's aggressive behaviour on the safety and wellbeing of the children."
The spokesperson added the protection of the children was the "absolute priority".
On Tuesday, Prime Minister David Cameron told the Commons there should be no sympathy for Moat, who he called a "callous murderer".
Mr Cameron was speaking after flowers had been left at the scene of Moat's death and messages of sympathy left on Facebook.
Facebook said the page would not be removed on the grounds the site encourages public debate about issues in the media.