In pictures: England's bare lawns and parched parks
By Christy Cooney
BBC News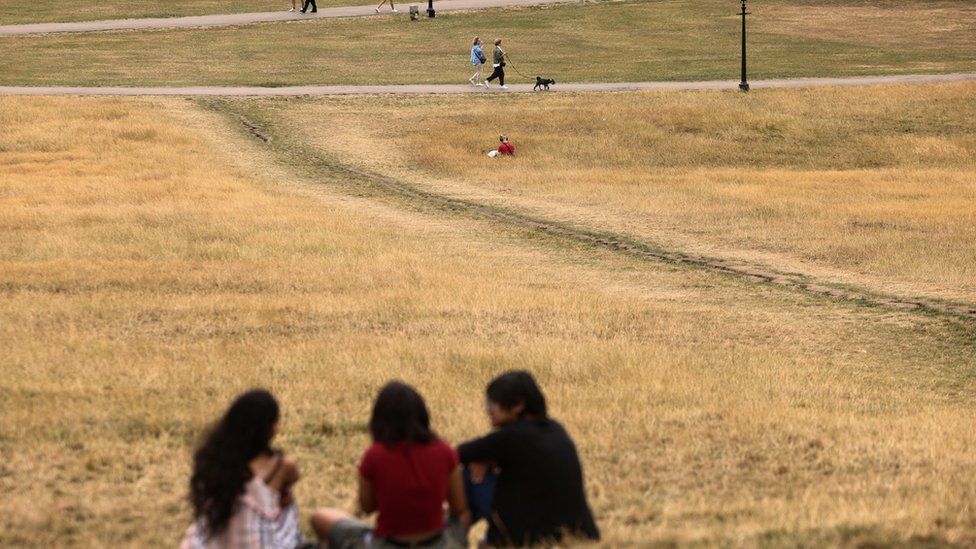 Recent weeks have brought record-breaking temperatures and the driest July England has seen for more than 80 years.
And it isn't only us humans who have been suffering the effects - the country's grass and plant life have also been withering in the heat.
Northern areas are now getting some rain, but southern England isn't expected to see any until at least the end of next week. Hosepipe bans are now being introduced in some places, for the first time this year.
Pictures show the toll the heatwave is taking on the country's lawns, fields, and parks.
In London's Richmond Park, there is dried-out ground and dead grass - as well as a warning to the public not to drop cigarettes or light barbecues, because of the risk of fire.
The heat has left some sites in the capital that are normally covered in manicured grass - including Westminster's Parliament Square - completely bare.
And the spot commonly recognised as the source of the River Thames, located near Cirencester, has also dried up for what is thought to be the first time.
At Chatsworth House in Derbyshire, the temperatures revealed the remnants of a 17th Century garden design.
Aerial footage of the home's South Lawn showed straight paths and ornate swirls that previously formed walkways around the lawn.
The walkways were replanted in about 1730, but the shorter roots of the newer grass means it burns more quickly, creating a contrast with the older grass around it.
Aerial photos also show the impact of the heat on cricket fields and golf courses in southern England.
Parts of northern England, North Wales, and Scotland are already seeing some showers again, with some areas set to get more rain over the weekend, but southern England is expected to remain dry until next Thursday at the earliest, according to BBC Weather's John Hutchinson.
Temperatures in the south are also set to rise next week and are likely to exceed 30C (86F) in parts.
A number of river beds have also dried up across the country, including in Gloucestershire and Greater Manchester.
But don't worry if the grass in your garden is already looking worse for wear.
Unlike most plants, grass grows not from its outer tips but from the base, near the roots, making it easier for it to grow back if the blades are cut or scorched.
Provided the roots are still healthy, your grass should revive before long.