Ukraine war: Britons held by rebels in Ukraine to stand trial
By Emma Vardy & Andre Rhoden-Paul
BBC News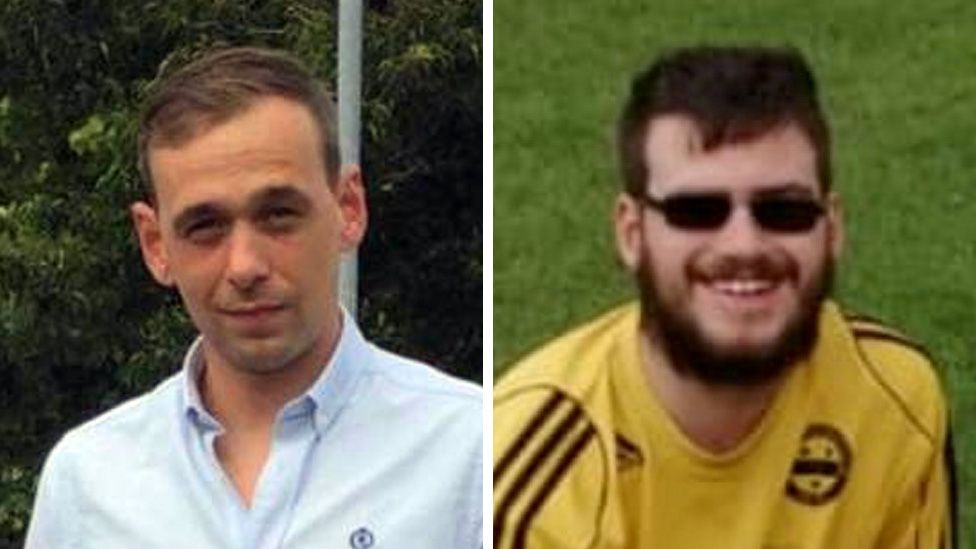 Three British men accused of being mercenaries are to stand trial in a Russian proxy court in eastern Ukraine.
John Harding, Dylan Healy, and Andrew Hill will be tried in the so-called Donetsk People's Republic, a breakaway region of Ukraine, Russian media said.
The Foreign Office said it condemned the exploitation of civilian detainees for political purposes.
Ex-serviceman Mr Harding, originally from Sunderland, had been fighting alongside Ukrainian forces since moving to the country in 2018. In July he appeared in a video appealing to Prime Minister Boris Johnson for help.
Mr Hill has been fighting with Ukraine's International Legion.
Mr Healy, from Huntingdon, Cambridgeshire, had been volunteering in Ukraine as an aid worker when he was captured at a checkpoint in April, alongside Paul Urey who died in July while being held by Russian-backed separatists.
Russia's state news agency Tass reported that the three British men had refused to co-operate with investigators and testify.
They are being tried alongside two other men from Sweden and Croatia.
The same court in June sentenced Shaun Pinner and Aiden Aslin to death. The Britons were captured while fighting for Ukraine were accused of being mercenaries.
Their families insisted they were long-serving members of the Ukrainian military and not mercenaries.
The UK and Ukraine have condemned the sentences for violating international laws protecting prisoners of war.
After this latest development, the Foreign Office said it was in constant contact with Ukraine to support its efforts to get all the Britons released.
It added: "We condemn the exploitation of prisoners of war and civilian detainees for political purposes and have raised this with Russia."
The news came on the same day that Russia banned BBC newsreader Huw Edwards, along with a number of other journalists, as part of its latest wave of sanctions.
Mr Edwards follows several of his BBC colleagues who were blacklisted by Russia in June, including fellow newsreader Clive Myrie and BBC Radio 4's Today programme presenter Nick Robinson.
Edwards tweeted he had "made the Kremlin cut", adding Wales and Ukraine flag emojis next to his name on the list.
Moscow's foreign ministry issued a list of 39 newly-sanctioned individuals who are now barred from entering the country, in response to UK sanctions over Russia's invasion of Ukraine.
Other journalists banned include ITV's political editor Robert Peston, the Sunday Times' political editor Caroline Wheeler, the Times' columnist David Aaronovich, the Guardian's war news editor Dan Sabbagh, and TalkTV's Piers Morgan.
In response, Morgan tweeted visiting Russia "wasn't on my immediate vacation to-do list".
Travel bans have also been placed on David Cameron, former prime minister, Labour leader Sir Keir Starmer, and Labour MPs Lisa Nandy and David Lammy.
The SNP's Westminster leader Ian Blackford featured on the list as well.
The Russian foreign ministry said in a statement: "As has been noted more than once, the pernicious actions of the UK in planting Russophobia, spreading false information about our country and supporting the Kyiv neo-Nazi regime will receive an adequate and decisive response from the Russian side."