'This team is everything', says nine-year-old Beau
By James Gregory & Emma Lynch
BBC News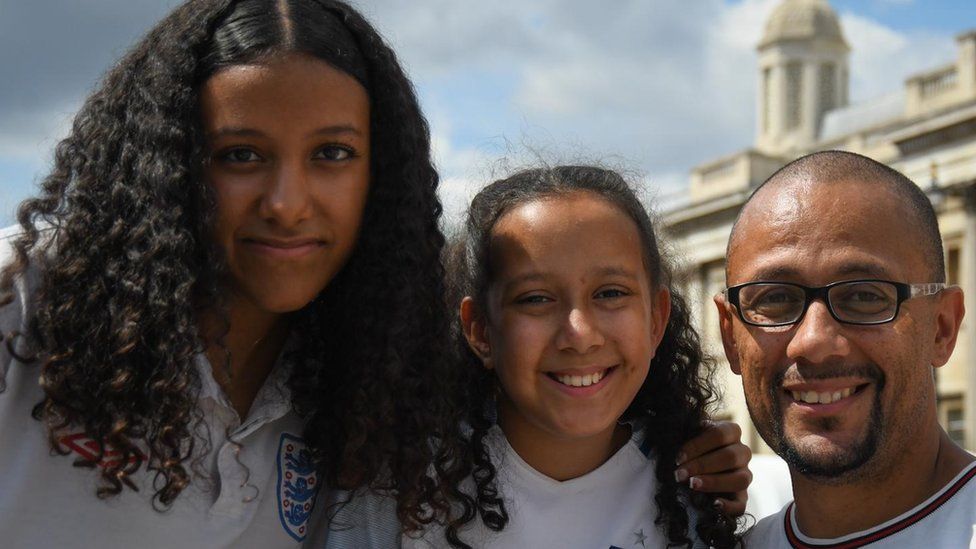 Donned in football kits and draped in St George's flags, fans from all over the country packed out Trafalgar Square in celebration of their England heroes.
For nine-year-old Beau Dulay-Bowskill who was standing at Trafalgar Square's fountain, "this team is everything".
"I cannot believe that England actually won it," she said.
Beau, her dad Kieron Bowskill, and older sister Jaya Dulay-Bowskill, were jumping around in their local pub in Barnet when England scored the winning goal.
She now says she will consider joining a local football team like her older sister, Jaya, who plays for the Barnet Nightingales.
Jaya, 14, said watching the England team will give her more motivation to progress through the sport: "The way it is moving, it is so good, it is inspiring for the whole world."
"I will see how I go but I want to progress," she added.
Their father, Kieron, has been taking his daughters to the Women's FA Cup final for years - but said nothing compared to this moment.
The 45-year-old helped Jaya become interested in football by getting her involved in her primary school team when she was younger.
While Jaya is at the start of what she hopes could be a promising football career, 33-year-old Emily Nickson from Chester has been inspired by England's performance to get back on the pitch - for the first time since she was 11.
She said her younger self would not have been able to believe how far the game had come.
"It was not really heard of then," she said. "This has inspired a lot of youngsters."
"It is probably easier to get back into it now, there should be more teams."
Jess Donkin, who started playing football in childhood at the age of seven, had to drop the game at university because there was not enough uptake among other students.
Now aged 21, Jess, like Jaya, has her father to thank for getting her involved in football. She said: "I watched football with my dad when I was younger."
She hopes the current crop of England players will inspire the next generation of girls to take up the sport.
"Seeing lots of young girls here is really good," she added.
Jess, who picked up an injury which required surgery when she was younger, said she would now consider playing for fun.
"I would play now for leisure but I like the management side of it now. I prefer the coaching side of it, especially with girls teams."
Attending Sunday's match was significant for Zara Gregory too: "As a mum of two girls, it was a pretty special moment."
She believes this England team represents many of the values parents hope to pass on to their children.
"The leadership, the teamwork - it is everything you want to teach them about."
All of this has been done despite years of underfunding for the women's game, she added.
"The men get paid 50-times more than the women," she said.
According to BBC analysis, the average Women's Super League player earns £47,000 a year, compared to the millions earned by Premier League male players.
Zara's 12-year-old daughter, Grace, hopes to follow in the footsteps of her idols.
"I've been playing since I was five, I want to play for Nottingham Forest when I'm older," she said.
And her dad, Will, believes this will be an "I was there moment" for Grace and her nine-year-old sister Ava in years to come.