Euro 2022: Five things that held women back in football
By Sam Hancock
BBC News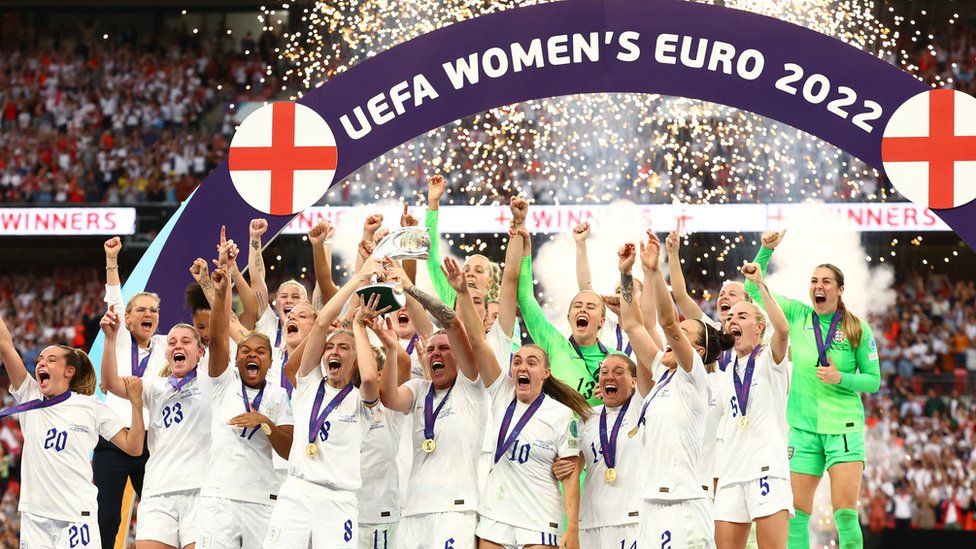 Right after England's Lionesses made history on Sunday, a former star player blasted Premier League football clubs for turning down the opportunity to host matches during the European Championship they had just won.
"You weren't brave enough to see the vision," Alex Scott said in front of a record crowd of 87,192 at Wembley, where the England women's team beat Germany 2-1 in the final.
It was watched by even more at home, with a BBC One television audience of 17.4 million making the final this year's most-watched programme so far.
Much focus is now on English football to see how it will capitalise on the success of a team who have captured the nation's heart.
But first - from a lack of opportunities at school to the financial barriers still in place - what has held women's and girls' football back for so long?
In 1921, the FA - England's governing body of association football - stopped women playing at any of its affiliated grounds, finding the sport "unsuitable for females".
Officials did not have the power to ban women from playing outright which is why in its ruling, the FA instead asked clubs "belonging to the Association [to] refuse the use of their grounds for such matches".
At the time, women's football was hugely popular - a trend that grew during World War One, when most men fit enough to play football were needed for the war effort and so women's matches catered for the country's desire to still see football action.
Just a year before the ban was imposed, a Boxing Day match between Dick, Kerr Ladies FC, from Preston, and St Helen's Ladies was watched by 53,000 spectators at Goodison Park in Liverpool, still the home of Everton. Another 14,000 were locked outside the ground trying to get in.
The ban was eventually lifted in 1971 - 50 years later - but the damage had already been done. "Without the opportunity for the masses to watch games regularly in large-capacity venues, the interest naturally waned," Suzy Wrack, author of A Woman's Game, writes.
It was only four years ago that the Women's Super League (WSL) became fully professional.
Now, the latest figures show 3.4 million women and girls play football in England, with 9,251 teams affiliated with the FA.
This figure is expected to grow in light of the Lionesses' success, with the government unveiling its next phase of pitches and centres for women after it promised to invest £230m in grassroots football in March.
2. Lack of football for girls in schools
A key target of the FA's four-year Inspiring Positive Change strategy is to ensure every primary school-aged girl has the same access to football as boys at school and in clubs by 2024.
In its plan, the FA pledges to both bolster after-school sessions and work with "grassroots clubs and community football providers" to ensure as many young girls as possible "carry on playing football into and through their teenage years".
The association reported this year that 63% of schools in England offer girls' football in PE lessons and fewer than that - 40% - offer girls regular after-school football. At primary level, 72% of schools offer the sport but that drops to 44% as children progress into older year groups.
Following the Lionesses 4-0 win over Sweden in the Euro semi-final last week, former England player Ian Wright, now one of the BBC's leading football pundits, asked: "Whatever happens in the final now, if girls are not allowed to play football just like the boys can in their PE lessons after this tournament, then what are we doing?"
3. Sexist attitudes towards women playing
Female football players are known to face sexist - and at times misogynistic - abuse for their chosen profession, and that was no different during the Euros.
In research conducted by German broadcasters ARD and NDR and the broadsheet newspaper Süddeutsche Zeitung, it was concluded that of 300 offensive social media posts detected by Uefa during the contest's group stages:
70% were insults without reference to a specific group of people or ethnicity
20% were classified as sexist
6% were racist
4% were homophobic
Now, members of the male England squad have partnered with the Lionesses to tackle misogyny in the game.
In the run-up to the Euros, EE Hope United - a campaign centred around a dream team of footballers aimed at stamping out social media abuse - unveiled a new squad made up of some of the UK's highest profile male and female players in a bid to tackle online sexist hate.
Lionesses stars Ellen White and Lucy Bronze, England men's team manager Gareth Southgate and Liverpool captain Jordan Henderson were among those who lent their faces to the campaign, including TV adverts that were screened during the month of the tournament.
4. Less money in women's sport
England's top-level Women's Super League (WSL) launched more than 10 years ago but serious money is only just starting to roll into the women's game. That is thanks to sponsors - including brands such as Barclays, Visa and Nike - but also due to increased mainstream media coverage.
There is still far less investment in women's football in England than there is in men's, though.
Now former England player Alex Scott says she believes the onus will be on sponsors to prove their worth to the Lionesses - not the other way around.
"I'm not standing up at corporate events in front of sponsors any more begging for them to get involved in the women's game because you know what? If you're not involved, you've missed the boat, you've missed the train."
5. Financial barriers for girls on their way up
The term "pay to play" has become popular during the Euros after reports surfaced suggesting parents of girls may have to pay for their daughters to get access to play at Premier League football clubs while boys train with the club's academies for free.
Gary Lineker has urged the Premier League to scrap the fees following a report in inews detailing the costs, telling clubs they need to "sort this out".
The situation has also been worsened in recent years by some big clubs moving their training centres for both young boys girls out of cities and into suburbs, making it harder for youngsters to get to to the training ground.
Parents of boys with the potential to earn millions from the sport might give up other commitments to drive their sons to the ground and keep them in with a chance - but there is less incentive for parents of young girls.
As the sport gains record-breaking momentum, fans and players alike are hopeful the tide will turn forever in the way the women's game is viewed.
Already, the FA has already declared it wants to get 120,000 more girls playing football in wake of the Lionesses' success, unveiling plans to boost grassroots football and inclusion over the next 18 months.