Archie Battersbee: Last-minute hearing over treatment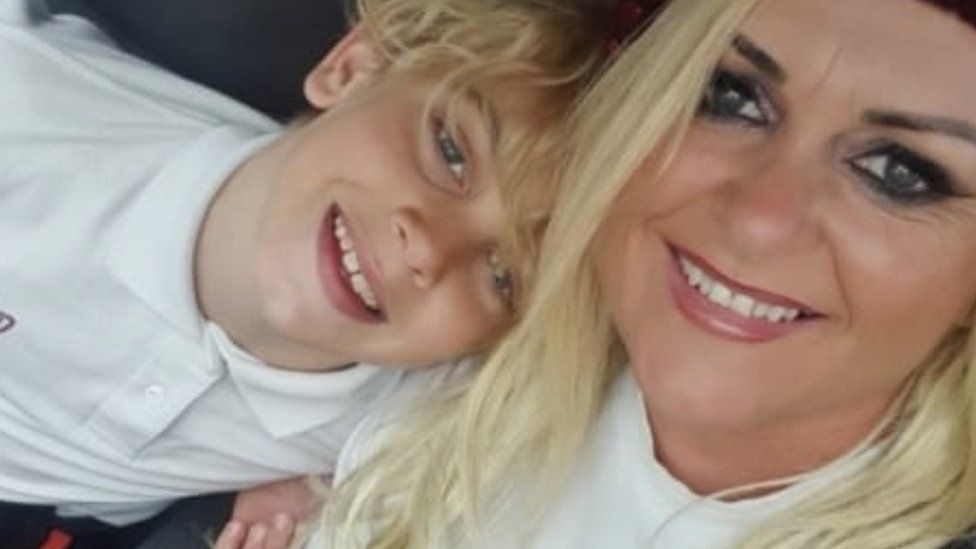 Lawyers for the family of Archie Battersbee have told a court that not postponing the withdrawal of life support would breach international law.
The Court of Appeal is holding a hearing, hours before doctors had been due to withdraw life support at 14:00 BST.
A decision will be given at 15:30.
Archie's mother, Hollie Dance, said she wanted a "realistic time" for her child to recover.
Her son was found unconscious at home in Southend, Essex, on 7 April. He has never regained consciousness and Ms Dance said she believed he might have been taking part in an online challenge.
Archie, who is at Royal London Hospital in east London, was due to have his life support stopped on Monday afternoon.
However, the trust will not take any steps to end Archie's treatment until the Court of Appeal has given its decision on the latest development.
Lawyers for the family said failure to postpone withdrawal of treatment would mean the court was "complicit" in a "flagrant breach of international law".
Doctors have said that he is brain-stem dead and that it is in his best interests to stop treatment.
Last week, Appeal Court judges ruled that doctors could lawfully disconnect his ventilator.
It comes after two High Court judges agreed with doctors and said life-support treatment could end.
Archie's family applied to the UN Committee on the Rights of Persons With Disabilities (UNRPD) to consider the case, arguing it had a protocol that allowed individuals and families to "make complaints about violations of disabled people's rights".
The committee requested that Archie's life support continued while it considered the application from his family.
A legal "stay" to prevent treatment being withdrawn had been put in place until 13:00 on Monday.
In written submissions to the Court of Appeal, Edward Devereux QC, acting for the family, said the UN committee's request was "binding" under international law.
He asked the court to grant a stay to prevent the withdrawal of life-sustaining treatment until after the committee considered the case, but said he did not know how long that would take.
As an alternative, he asked the court to grant a stay within the next week to give time to ask the committee about a likely timescale for its decision.
Mr Devereux also argued that it would be "wholly inappropriate" for the court to reach a decision without the government being required to provide its views on the committee's request.
However, Lady Justice King, one of the judges hearing the urgent application, said the government had chosen not to intervene in the case.
In submissions for Barts NHS Health Trust, Fiona Patterson said the UN committee's request may impose an obligation on the UK as the "state party" but that this was "a matter for the United Kingdom's government, not the trust".
The trust was, she said, "obliged" to cease treatment per the ruling by High Court judge Mr Justice Hayden on 15 July.
She said: "This is because the trust is not the state and there is no provision of domestic law that makes a clinician or a trust in a situation like this obliged to act on an interim measures request from the committee to a state party, still less act in breach of a valid domestic court order which mandates it to withdraw treatment.
"The trust's position remains the same, ie that (Mr Justice Hayden's) order protects Archie's best interests, that the trust is obliged to comply with the order unless and until it is varied by a further order of the court."
Prior to the hearing, Ms Dance said the family felt "relieved" that the government had taken the UN's intervention seriously.
"The anxiety of being told that Archie's life-support will be removed... at 2pm has been horrific. We are already broken and the not knowing what was going to happen next is excruciating," she said.
Speaking to BBC Radio 4, Ms Dance was adamant that her son's future "shouldn't be with the decisions of a court - or the hospital".
"I think this sort of decision should be made by the parents - we've got parental responsibility for a reason," she said.
She said based on evidence from cases similar to Archie's: "I don't think six months was not too much to ask for, before being dragged through a court.
"I don't think I'm holding on to hope, I'm just asking for a realistic time for my child to recover from a brain injury.
"They wanted to turn the machine off on day three. What is the rush?"
"I just think while Archie's progressing, I think it's important that evidence is actually put before a court. That he's progressing, not deteriorating like the doctor said that he would."
'Exceptionally difficult'
Archie's parents are being supported by campaign organisation the Christian Legal Centre.
As the UK had joined the optional protocol to the convention on the rights of persons with disabilities, the UN was able to ask the government to delay the withdrawal of life support while a complaint was investigated, Christian Concern said.
A spokesman for the Department of Health and Social Care said: "We recognise this is an exceptionally difficult time for Archie Battersbee's family and our thoughts are with them.
"The government asked the High Court to urgently consider the request from the UN Committee on the Rights of Persons with Disabilities."
Timeline of Archie's case:
7 April: The 12-year-old is found unconscious at his home in Southend, Essex. His mother believes he had been taking part in an online challenge
13 May: A judge rules that Archie should undergo a stem test to establish whether he is dead
31 May: Based on MRI scans, Archie died at noon, Mrs Justice Arbuthnot would later rule
29 June: Archie's parents win an appeal for his case to be heard again
11 July: A new hearing, to be presided over by a different judge, begins
15 July: Mr Justice Hayden issues his ruling that it was in Archie's best interests for life-support to end, saying further treatment was "futile"
25 July: An application to the Court of Appeal to overturn the ruling is rejected and judges rule that doctors can lawfully disconnect his ventilator