Ex-health secretaries call for urgent blood scandal pay-outs
By Jim Reed & James FitzGerald
BBC News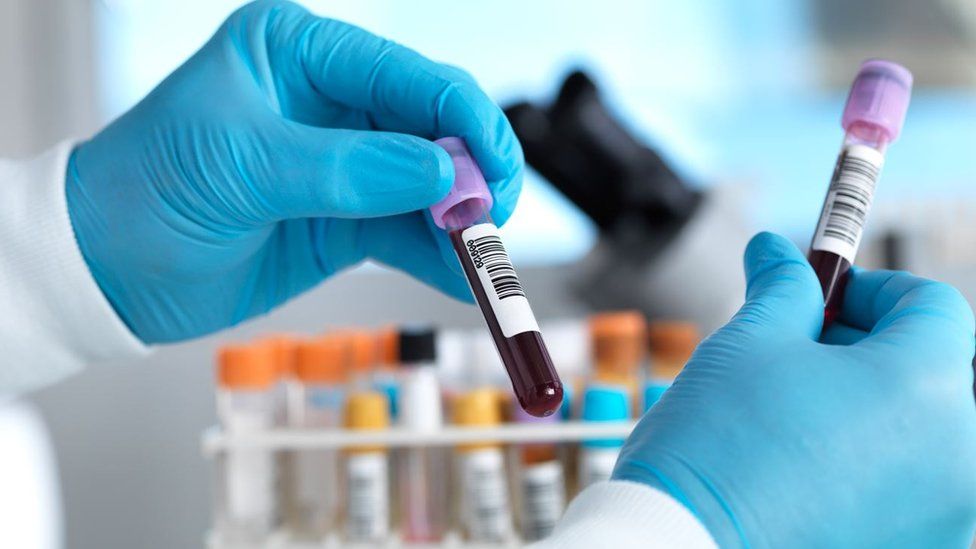 Three former health secretaries have called on the government to urgently pay compensation to victims of the contaminated blood scandal.
The chairman of the public inquiry into the scandal, Sir Brian Langstaff, has recommended that each victim should receive a provisional sum of £100,000.
One woman who developed hepatitis C from infected blood told the BBC the news was "incredibly significant".
The government has said it will urgently consider any recommendations.
Former health secretaries Andy Burnham, Jeremy Hunt and Matt Hancock told the BBC it was important to act quickly because the life expectancy of many victims had been shortened by infections they had contracted.
A lawyer representing about 15,000 claimants also argued that victims should receive compensation "immediately".
Des Collins said payment must be made within "days or weeks", and he would step up pressure from Monday.
At the time, the medication was imported from the US where it was made from the pooled blood plasma of thousands of paid donors, including some in high-risk groups, such as prisoners.
If a single donor was infected with a blood-borne virus such as hepatitis or HIV, then the whole batch of medication could be contaminated.
An unknown number of UK patients were also exposed to hepatitis B or C though a blood transfusion after childbirth or surgery.
Labour's Andy Burnham called on ministers to act quickly, telling BBC Breakfast many victims had "not got long left".
He added that governments had not "been truthful about this matter because of the fear about the financial exposure".
Mr Burnham claimed that successive health ministers - including himself - had been misled by officials, adding there "may be a case for corporate manslaughter".
Conservative MP Jeremy Hunt, another former health secretary who now chairs the health select committee, said the issue must not be "kicked into the long grass".
Like Mr Burnham, he acknowledged failings of previous governments in their support for victims of the scandal.
Giving evidence to the inquiry in 2021, then health secretary Matt Hancock said "of course" compensation would be paid to victims and their families if the public inquiry formally called for it.
On Saturday, Mr Hancock told the BBC he was confident the government would deliver pay-outs to victims and that it was its "moral duty" to do so.
Mr Hancock went on to say that compensation had not been paid yet because "in government, when a recommendation comes in like this, you do need to then check with each department".
Ros Cooper, who was infected with hepatitis C after being given blood-clotting products as a baby, welcomed the recommendation of interim compensation.
Ms Cooper called the judge's words "incredibly significant", telling BBC Radio 4's Today programme that her disease had been "the controlling factor" in her life.
Currently, victims and families get an annual financial support payment but have not been compensated for loss of earnings, care costs and other lifetime losses.
Sir Brian Langstaff said on Friday that more than 4,000 individuals who currently qualify for the government's existing offering of financial support - including some bereaved partners of those killed - should now receive the pay-outs.
Jason Evans, whose father died in 1993 after contracting HIV and hepatitis C from infected blood, said he was concerned he would need to continue to campaign to get pay-outs "over the line".
Speaking to BBC Breakfast, he described the "terrible" stigma his family had faced during his father's illness.
He said his mother lost her job at a bakery because the manager thought customers would worry about being served by someone whose husband might develop Aids. Mr Evans, who was four when his father died, was also bullied at school as a result of his father's infection.
He said some bereaved family members would be ineligible to receive support under Sir Brian's recommendation - for example, if a victim's relationship had broken down, meaning that their ex-spouse had no longer been living with the victim at the time they died.
Over the years, the government has put in place a number of schemes offering victims financial support without any admission of liability but, unlike in the Republic of Ireland and some other countries, compensation has never been paid to individuals or families affected.
Compensation would be intended to fund immediate bills and care needs, with final recommendations on compensation for a wider group of people expected when the inquiry concludes next year.
An independent study commissioned by the government, published last month, said victims should eventually be compensated for physical and social injury, the stigma of the disease, the impact on family and work life, and the cost of care.
Partners, children, siblings and parents of those who have been infected should be eligible for payments too, the study recommended.
If the inquiry and then the government accept those proposals then it is possible a final bill could be more than a billion pounds.
A government spokesperson said: "We recognise how important this will be for people infected and affected across the UK, and can confirm that the government will consider Sir Brian's report and the recommendations of Sir Robert Francis QC with the utmost urgency, and will respond as soon as possible."
Additional reporting by Kathryn Snowdon