Wagatha Christie case: Judgement at a glance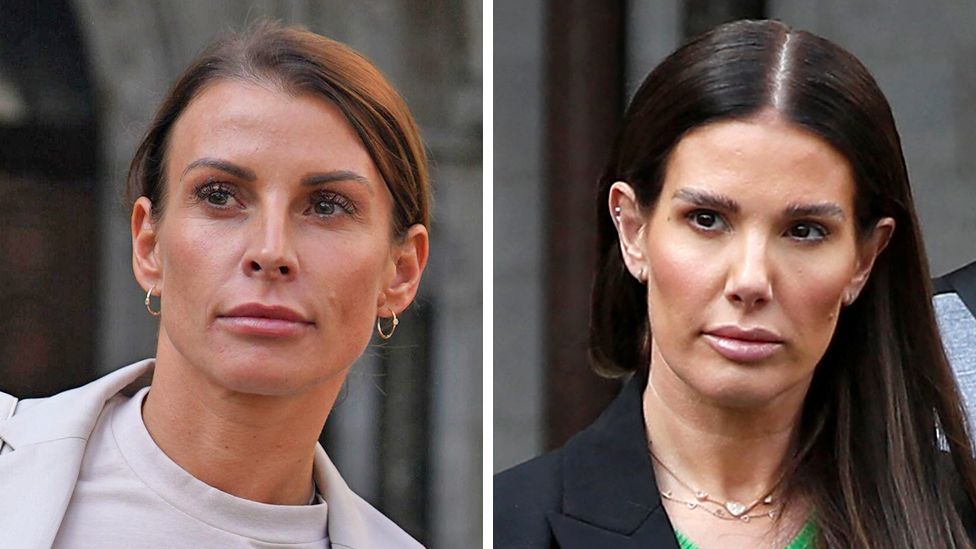 One of the most talked about celebrity disputes has now come to an end. Rebekah Vardy has lost her defamation case against Coleen Rooney - the so-called Wagatha Christie libel trial.
Mrs Rooney had in a social media post accused Mrs Vardy of leaking private stories about her - stemming from her Instagram account - to The Sun.
High Court judge Mrs Justice Karen Steyn has ruled that accusation was "substantially true".
And in a 75-page judgement, the judge made a number of scathing or illuminating observations on the case.
Vardy evidence should be treated with 'very considerable caution'
"I find that it is, unfortunately, necessary to treat Mrs Vardy's evidence with very considerable caution," said Mrs Justice Steyn.
"Mrs Vardy was generally unwilling to make factual concessions, however implausible her evidence.
"This inevitably affects my overall view of her credibility, although I have borne in mind that untruthful evidence may be given to mask guilt or to fortify innocence."
Likely agent 'deliberately dropped phone in sea'
The court heard the phone of Mrs Vardy's then-agent Caroline Watt could not be submitted as evidence because it fell into the North Sea while she was filming the Scottish coastline.
Mrs Vardy also claimed some of her conversations with Ms Watt were wiped, denying she destroyed any evidence.
"The timing is striking," said the judge. "In my judgement... the likelihood that the loss Ms Watt describes was accidental is slim.
"In my judgement it is likely that Mrs Vardy deliberately deleted her WhatsApp chat with Ms Watt, and that Ms Watt deliberately dropped her phone in the sea."
Vardy 'knew of and condoned' leaks
Mrs Rooney's primary defence was that seven stories based on information on her private Instagram account had appeared in the Sun newspaper, saying it was as a result of leaks by Mrs Vardy.
She accused Mrs Vardy of using Ms Watt as a conduit to the press.
"It is likely that Ms Watt undertook the direct act, in relation to each post, of passing the information to a journalist at the Sun," Mrs Justice Steyn said.
"Nonetheless, the evidence... clearly shows, in my view, that Mrs Vardy knew of and condoned this behaviour, actively engaging in it by directing Mrs Watt to the private Instagram account, sending her screenshots of Mrs Rooney's posts, drawing attention to items of potential interest to the press, and answering additional queries raised by the press via Ms Watt."
Did Vardy deliberately sit behind Rooney at an England game?
Mrs Vardy denied she sat behind Mrs Rooney during a Euro 2016 football match in order to allow a photo agency to a get a photograph with the pair in the same shot.
The court heard Mrs Vardy had in fact been allocated seats several rows in front of Mrs Rooney.
Mrs Rooney said Mrs Vardy had shown "publicity-seeking behaviour" in sitting behind her.
"As the wife of the England captain, and having already been in the public eye for about 14 years by then, Ms Rooney had a higher public profile than Mrs Vardy," said the judge.
"It is highly likely that Mrs Vardy ended up sitting directly behind Mrs Rooney, in circumstances where that was not her allocated seat, due to a deliberate choice to put herself in the same shot."
Vardy suffered vile abuse after reveal post
"Some members of the public have responded to the reveal post by subjecting Mrs Vardy to vile abuse, including messages wishing her, her family, and even her (then unborn) baby, ill in the most awful terms," reads the judgement.
"Nothing of which Mrs Vardy has been accused, not any of the findings in this judgement, provide any justification or excuse for subjecting her or her family, or any other person involved in this case, to such vitriol."
Rooney was an 'honest and reliable witness'
"In my judgement, Mrs Rooney was an honest and reliable witness," said Mrs Justice Steyn.
"She sought to answer the questions she was asked without any evasion, and without conveying any sense that she was giving pre-prepared answers."
Did Vardy think it was all a harmless fuss about nothing?
"Mrs Vardy was keen to be the subject of (positive) press coverage and it is apparent that she thought Ms Rooney was, too," said the judge.
"Mrs Vardy's perception seems to have been that the information on the private Instagram account was harmless and, when Mrs Rooney repeatedly made clear her objection to her private posts being given to the press, Mrs Vardy seems to have viewed this as making a fuss about nothing and attention-seeking."