Sir Christopher Meyer, UK's former ambassador to the US, dies at 78
By Christy Cooney & John Hand
BBC News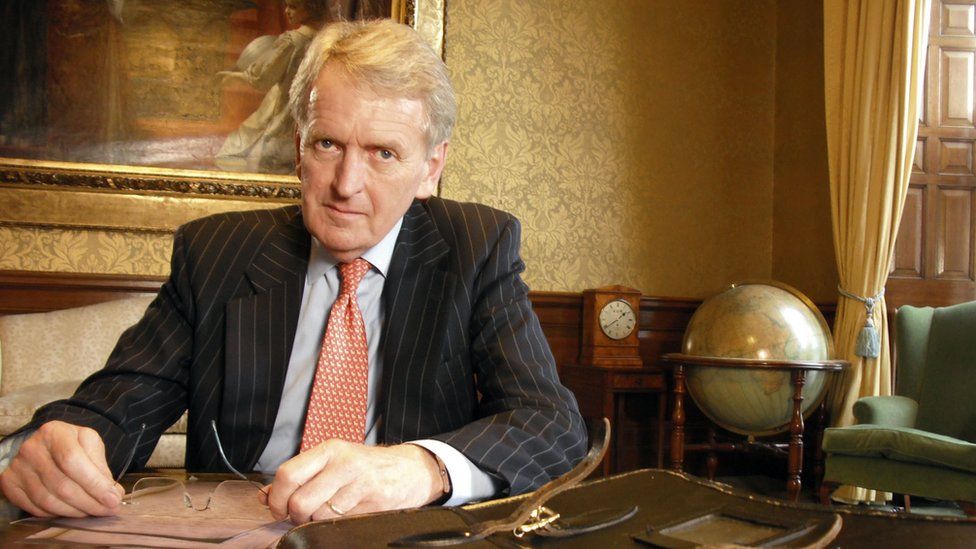 Sir Christopher Meyer, a former UK ambassador to the US and Downing Street press secretary, has died aged 78.
His six years in Washington DC came during the Bill Clinton and George W Bush eras.
Prime Minister Boris Johnson called Sir Christopher a "dedicated public servant".
The Daily Mail reported he died after suffering a stroke while on holiday in the French Alps with his wife Catherine.
In a tribute on Twitter, Mr Johnson wrote: "Saddened to hear of the death of Sir Christopher Meyer.
"He was a dedicated public servant throughout his career and devoted his life to international diplomacy."
Saddened to hear of the death of Sir Christopher Meyer.

He was a dedicated public servant throughout his career and devoted his life to international diplomacy.

My thoughts are with his wife Catherine and his loved ones.

— Boris Johnson (@BorisJohnson) July 29, 2022
Deputy Prime Minister Dominic Raab called Sir Christopher a "formidable diplomat" who strengthened the UK-US special relationship.
The current ambassador, Dame Karen Pierce, paid tribute, saying: "He was a great diplomat and a great character."
Sir Christopher joined the Foreign Office in 1966 and had early postings to Moscow, Madrid, and Brussels.
In 1993, he was appointed press secretary to then-Prime Minister John Major.
After three years, Sir Christopher returned to foreign postings, initially as ambassador to Germany before being sent to Washington.
He served as ambassador to the US for six years during Tony Blair's time as prime minister, with his tenure covering the end of the Clinton administration and the 9/11 attacks.
Sir Christopher Meyer enjoyed a long career as a diplomat. The high point being his posting, by Tony Blair, to Washington.
It was a turbulent time in American politics, embracing the end of the Clinton administration, the president's impeachment over the Monica Lewinsky affair, the narrow victory of George W Bush over Al Gore, the attacks on September 11 and the subsequent invasion of Afghanistan - and the run-up to the war in Iraq.
Sir Christopher played a central role in dealing with the immediate aftermath to 9/11, travelling to New York to support British officials and bereaved relatives - later working with Mr Blair and the Bush administration on a strategy to tackle international terrorism.
Known for his fondness of red - or green - socks, Sir Christopher was quick-witted and an ebullient communicator.
He was engaged in politics, including the Conservative leadership race, to the end - tweeting about it under the handle @SirSocks.
Just two days ago he posted that he'd found the recent debates "quite useful in exposing the candidates' personalities and policies".
Between 2003 and 2009, he served as chairman of the Press Complaints Commission, and later became known as an author and broadcaster, appearing frequently in the media as a commentator on current affairs.
He was also active on Twitter, with more than 32,000 people following his account under the name @sirsocks - which was a reference to his penchant for wearing colourful socks during his public life. It led to him being described as a "red-socked fop" by Labour's former Deputy Prime Minister John Prescott.
His 2005 memoir DC Confidential prompted further spats with politicians of the era. He criticised Mr Blair for failing to use his leverage in Washington to delay the Iraq war to allow better planning for the post-Saddam Hussein era.
And he said many of Mr Blair's ministers who visited the US were political "pygmies" who failed to impress their American counterparts.
In particular, he described Jack Straw as being "mystifyingly tongue-tied" in one key UK/US meeting and labelled him as a B-list politician who was "more to be liked than admired". In response, Mr Straw said Sir Christopher's book amounted to an "unacceptable" breach of trust.
He spent six days in hospital and had a number of operations.
His 17-year-old attacker later pleaded guilty to causing grievous bodily harm without intent to Sir Christopher and was sentenced to a 12-month intensive referral order.